Events
Investment
News
Opportunities
Couromoda to welcome eight Arab buyers
The 46th edition of the international shoe and leather industry show will run from January 14 to 17 at São Paulo's Expo Center Norte. It will see over 2,000 international companies looking to buy, including four from the UAE, three from Saudi Arabia and one from Egypt.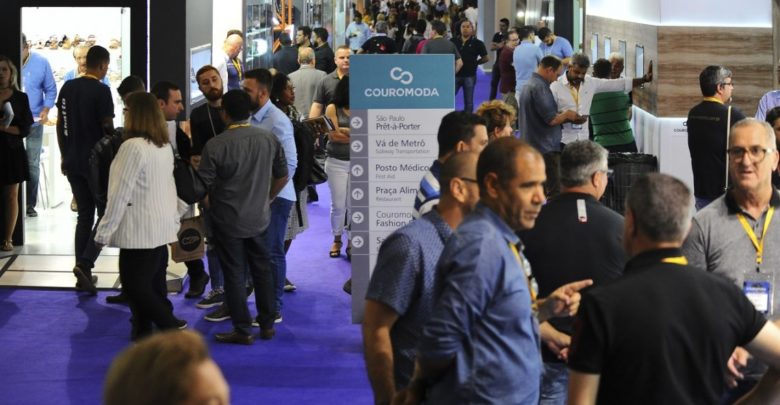 São Paulo – Eight Arab buyers will be at the 46th International Shoe, Leather Goods and Accessories Fair – Couromoda, running from January 14 to 17 at Expo Center Norte, São Paulo. One of the premier trade shows for the industry in Latin America, it will feature 2,000-plus footwear, purse and accessory brands. Over 30,000 companies shopping for product are expected, including over 2,000 non-local enterprises from 50 different countries – mostly in Latin America, like Ecuador and Bolivia. Participating Arab companies will include four Emirati, three Saudi Arabian and one Egyptian company. Pictured above is last year's edition of the show.
A press release quoted Brazilian Footwear Industries Association (Abicalçados) chairman Heitor Klein as saying that Couromoda is expected to mark a rebound for Brazil's footwear industry, whose output was down by over 2% in 2018. "We had a few more positive indications in the last few months of last year, both domestically and abroad, so we are expecting further proof of that recovery," said Klein.
Couromoda director Jefferson Santos agrees that the outlook for the show is good: "Christmas sales were the best since 2014, and that means retailers need to replenish their stockpiles and show new products to their clients," he noted.
The opening ceremony will be attended by Jefferson Santos, São Paulo state governor João Doria, Rio Grande do Sul governor Eduardo Leite, Novo Hamburgo (RS) mayor Fátima Daudt, elected federal representatives Lucas Redecker and Marcel Van Hattem, and São Paulo state secretary for Social Development Célia Parnes.
Abicalçados will have a stand near the main entrance to the show. The association will bring in buyers from countries like Georgia and Kazakhstan under the expo's VIP Buyers project, in partnership with the Brazilian Trade and Investment Promotion Agency (Apex-Brasil).
Couromoda will run concurrently with the 9th São Paulo Prêt-à-Porter, an international fashion, textiles and accessories exhibition running from January 14 to 16, also at Expo Center Norte.
Quick facts
46th International Shoe, Leather Goods and Accessories Fair – Couromoda
January 14-17, 2019
Monday-Wednesday, 10 am-8 pm
Thursday, 10 am-5 pm
Expo Center Norte
São Paulo
Find out more from the Couromoda website
Translated by Gabriel Pomerancblum
Informations from ANBA.