News
30 INCREDIBLE ARABIC FILMS YOU CAN WATCH ON NETFLIX RIGHT NOW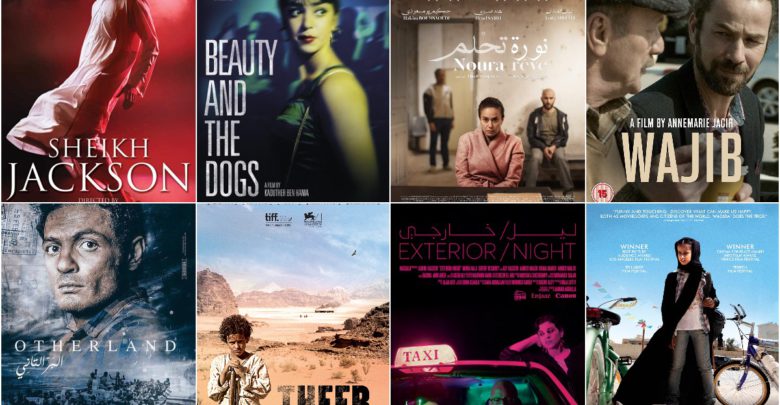 So there's a bunch of Arabic titles on Netflix now—iconic masterpieces of the Arabic cinema canon and rising stars of the independent scenes alike. A lot of the offerings are Egyptian pop comedies which, sure, have their timeless charm, not least in the new library of classic comedy plays, but the hidden gems, festival darlings, and forgotten treasures might take a little bit longer to find. So we found them for you.
Netflix most recently released a new catalogue of 44 movies by Arab directors, including Youssef Chahine, Youssry Nasrallah, Nadine Labaki, Moustapha Akkad, Anne Marie Jacir, Laila Marrakchi and many more. With these new additions to Netflix's existing Arabic titles, the streaming giant has become a veritable cornucopia for the Arabic cinema auteur.
"We want more people around the world to have access to great stories and have the chance to see their lives represented on screen," said Netflix MENAT Director of Content Acquisitions Nuha El-Tayeb. "We also believe that great stories come from anywhere and can travel everywhere, connecting with audiences far beyond their place or language of origin. We're honoured to share these classic and contemporary films with our members in the Arab world and globally."
Even though not all the trailers featured here have English subtitles, the films on Netflix are available with Arabic, French, and/or English subtitles according to the country.
1. Exterior/Night (Egypt, 2018)
Synopsis Moe, Toutou, Mostafa, three individuals meeting at one extraordinary night, breaking the social norm and flirting with its boundaries, each is fight…
When a frazzled young director hails a cab, the ride turns into a bumpy exploration of class and gender with a sharp sex worker and a testy driver. Directed by Ahmed Abdallah and starring Karim Kassem, Mona Hala, Sherif El Dessouky, and Ahmed Malek, the film was screened in the Contemporary World Cinema section at the 2018 Toronto International Film Festival, and won Sherif El-Dessouky the award for Best Actor at the 40th Cairo International Film Festival for his role in the film.
2. Noura's Dream (Tunisia, 2019)
With her abusive husband in jail and a coveted divorce pending, hardworking Noura can almost grasp a happy, new life with lover Lassaad – but when the best-l…
When her abusive husband gets an early jail release, a woman fights to salvage the fresh start she planned with her lover and three children. The film stars Hend Sabry, Lotfi Ebdelli, and Hakim Boussmadi and directed by Hinde Boujemaa.
Read our interview with Hend Sabry about the resurgence of Tunisian cinema.
3. Wadjda (Saudi Arabia, 2012)
Subscribe to TRAILERS: http://bit.ly/sxaw6h Subscribe to COMING SOON: http://bit.ly/H2vZUn Subscribe to INDIE & FILM FESTIVALS: http://bit.ly/1wbkfYg Like us…
A persistent 10-year old wishes for a new bicycle so she can beat her friend in a race. But it's going to take some ingenuity to get one. The film is directed by Haifaa Al-Mansour and stars Reem Abdullah, Waad Mohamed, and Abdullrahman Al Gohani.
Read our interview with Haifaa Al-Mansour, Saudi Arabia's first female director.
4. Where Do We Go Now? (Lebanon, 2011)
Nadine Labaki's "Where do we go now – وهلأ لوين؟" Trailer.
While their men fight a war, the women of a Lebanese village band together to denounce sectarian conflict in creative ways. Directed by and starring Nadine Labaki, the film premiered during the 2011 Cannes Film Festival as part of Un Certain Regard, chosen to represent Lebanon for the 84th Academy Awards (though it did not make the final shortlist), won the People's Choice Award at the 2011 Toronto International Film Festival, and was the highest-grossing Lebanese film, and the highest-grossing Arabic film, until it was surpassed by Labaki's later film Capernaum (2018).
5. Sheikh Jackson (Egypt, 2017)
The sudden death of Michael Jackson sends a former King of Pop devotee – now a young imam – into a tailspin, in this tender and comedic film from Egyptian fi…
A devout Muslim imam has a crisis of faith after the unexpected death of his lifelong idol — pop superstar Michael Jackson. Directed by Amr Salama and starring Ahmed Malek, Ahmed El-Fishawi, Salma Abu Deif, and Amina Khalil, it was screened in the Special Presentations section at the 2017 Toronto International Film Festival and was selected as the Egyptian entry for the Best Foreign Language Film at the 90th Academy Awards, but it was not nominated.
6. Omar (Palestine, 2013)
Best foreign-language film Oscar Nominee [2014] Official Page ➨ http://adoptfilms.net/omar On Facebook ➨ https://www.facebook.com/AdoptFilms A tense, grippin…
A modern classic, Omar tells the story of a young Palestinian who continually scales the Apartheid Wall to visit his girlfriend, Nadia, and gets caught up with the violence of occupation. Directed by Hany Abu-Assad and starring Adam Bakri, Waleed Zuaiter, and Leem Lubany, the film was was screened in the Un Certain Regard section at the 2013 Cannes Film Festival, where it won the Special Jury Prize, shown at the 2013 Toronto International Film Festival, and nominated for the Best Foreign Language Film at the 86th Academy Awards.
7. Clash (Egypt, 2016)
Clash Trailer #1 (2017): Check out the new trailer starring Nelly Karim, Hany Adel, and Tarek Abdel Aziz! Be the first to watch, comment, and share Indie tra…
Amid the tumult following Egyptian President Morsi's ouster, demonstrators from divergent backgrounds are brought together inside a police truck. Directed by Mohamed Diab and starring Nelly Karim and Hany Adel, the film was officially selected by the 2016 Cannes Film Festival and was the opening film of the Festival's Un Certain Regard section that year. It was selected as the Egyptian entry for the Best Foreign Language Film at the 89th Academy Awards but it was not nominated.
8. Theeb (Jordan, international co-production with the United Kingdom, UAE, and Qatar, 2014)
www.facebook.com/TheebFilm Twitter: @TheebFilm In theaters across the Arab world starting March 19th 2015. ابتداء من ١٩مارس ٢٠١٥ في صالات السينما في أنحاء ال…
Duirng World War I, a 10-year old Bedouin orphan embarks on a treacherous journey to guide a British soldier through the inhospitable desert, past mercenaries and renegades. Directed by Naji Abu Nowar and starring Marji Audeh, Jack Fox, and Hussein Salameh Al-Sweilhiyeen, the film was nominated for the Best Foreign Language Film at the 88th Academy Awards, making it the first Jordanian nomination ever.
9. Wajib (Palestine, 2017)
Wajib by Annemarie Jacir – UK trailer. Opens September 14th 2018
As they reunite to deliver wedding invitations to a family wedding, a Palestinian returnee and his traditional father contend with their conflicting ideologies. Directed by iconic Palestinian filmmaker Annemarie Jacir and starring Mohammad Bakri, Saleh Bakri, and Tarik Kopty, the film was screened in the Contemporary World Cinema section at the 2017 Toronto International Film Festival and was selected as the Palestinian entry for the Best Foreign Language Film at the 90th Academy Awards, but it was not nominated.
10. Blessed Benefit (Jordan, Germany, 2016)
What if the freedom that you've always craved resides in the place you least expect? In the new film "Blessed Benefit," 45-year-old construction worker Ahmad…
After being wrongfully convicted of fraud, an honest man finds that life in prison comes with a measure of freedom that is unavailable outside, especially since all of his material concerns are taken care of. Directed by Mahmoud al Massad and starring Ahmad Thaher, Maher Khammash, and Odai Hijazi, the film was selected to be screened in the Discovery section at the 2016 Toronto International Film Festival.
11. The Worthy (UAE, 2017)
Enjoy the videos and music you love, upload original content, and share it all with friends, family, and the world on YouTube.
After the vast majority of the world's water supply is lethally contaminated, a small group of survivors who have taken refuge near a rare clean water source are thrust into a deadly game of cat and mouse and must defend their lives from infiltrators who aren't what they seem.
12. Rock the Casbah (Morocco, 2013)
Bande annonce de Rock The Casbah, un film de Laïla Marrakchi, avec : Morjana Alaoui, Nadine Labaki, Lubna Azabal et Hiam Abbass Sortie le 11 septembre 2013 /…
A recently deceased Moroccan patriarch brings his wife and three daughters back together for three days of mourning and reflection. The star-studded film is directed by Laila Marrakchi and features performances by Nadine Labaki, Hiam Abbas, and Morjana Alaoui.
13. In Syria (Belgium, 2017)
Screening at the Seattle International Film Festival. Tickets available at http://bit.ly/insyria-yt Lebanon | 2017 | 85 minutes | Philippe Van Leeuw In a Syr…
Also starring Hiam Abbas, In Syria follows a family who barricades themselves inside their apartment in Damascus, as war rages outside. The film was directed by Phillipe Van Leeuw.
14. Very Big Shot (Lebanon, 2015)
Looking to go straight, three coke-smuggling brothers are coerced by their crooked boss into a very dangerous last score, in this boldly comic first feature …
A small Lebanese drug dealer is trying to smuggle a million dollar drug shipment across the borders with the help of his two brothers and a talentless filmmaker. The dark comedy is directed by Mir-Jean Bou Chaaya, stars Alain Saadeh, Fouad Yasmine, and Tarek Yaacoub, and was screened in the Discovery section of the 2015 Toronto International Film Festival, and chosen as the Lebanese entry for the Best Foreign Language Film at the 89th Academy Awards.
15. Dachra (Tunisia, 2018)
Enjoy the videos and music you love, upload original content, and share it all with friends, family, and the world on YouTube.
Inspired by true events, an investigation into witchcraft leads a trio of of journalism students to a mysterious town marked by sinister rituals. Directed by Abdelhamid Bouchnak, the film stars Yassmine Dimassi, Aziz Jbali, and Bilal Slatnia.
16. Alexandria Why? (Egypt, 1979)
هل رأيت شئ عجيب في السما شكله غريب #صابرين_السعيدانى
Youssef Chahine's autobiographical tour de force sees an Egyptian teen living in World War II-era Alexandria, enamoured with American films, who dreams of making it in Hollywood. (Also, let none of us forget the beautiful queer subplot in this film, which Netflix has thankfully kept uncensored.)
17. Al Resala/The Message (Lebanon, Libya, Kuwait, Morocco, Saudi Arabia, United Kingdom, 1976)
Director: Moustapha Akkad Writers: H.A.L. Craig, Tewfik El-Hakim Stars: Anthony Quinn, Irene Papas, Michael Ansara Genres: Adventure | Biography | Drama | Hi…
The simultaneously produced English/Arabic religious historical epic The Message chronicles the life of the Prophet Muhammad and the origins of Islam through the perspective of Islam's earliest followers.
18. Six Windows in the Desert (Saudi Arabia)
This collection of six shorts from some of Saudi Arabia's most innovative filmmakers shines a light on topics that are universal in nature; social taboos, ex…
This isn't one film as much as a gift-wrapped six Saudi short films in one package. The film's include Meshal Al-Jasser's Is Sumyati Going to Hell?, Ali Kalthami's Wasati, Mohamed Al Salman's 27th of Shaaban, Faris Godus's Predicament in Sight, Faisal Al Amer's The Rat, and Mohamed Al-Salman's Curtain.
19. The Other Land (Egypt, 2016)
Un grupo de jóvenes egipcios que tratan de emigrar a Italia, escapando de sus vidas rurales desfavorecidas. Su viaje se complicará, ya que el mar puede ser t…
Fleeing their hometowns, young Egyptians embark on a hazardous journey across unforgiving seas in search of better lives in Italy. Directed by Ali Idris, the film stars Khaled Abdelhamed, Muhammad Ali, and Amr Amin.
20. Stray Bullet (Lebanon, 2010)
End of summer 1976, Northern suburb of Beirut. Noha is getting married. Her family is relieved for she's taking her last chance before she becomes an old mai…
Starring the not-yet Academy Award-nominated Nadine Labaki, Stray Bullet tells the story of a soon-to-be-wed Noha in 1976 Beirut who, after a rendezvous with her old flame, witnesses a violent incident and changes course on a path to self-realisation. The film was directed by Georges Hachem.
21. In Paradox (Kuwait, 2019)
WATCH ON NETFLIX رابط نتفلكس https://www.netflix.com/title/81252513 NOW STREAMING ON #NETFLIX WORLDWIDE متوفر على #نتفلكس كتابة وإخراج – حمد الصراف written a…
On the run from assailants, a man desperately seeks to take control of his strange memories before they consume his life, and his sanity. Directed by Hamad AlSarraf, the film stars Faisal Al Omairi, Jafra Younes, and Samr Ismaiel.
22. Villa 69 (Egypt, 2013)
Villa 69 Theatrical trailer -الاعلان للعرض السينمائي لفيلم فيلا ٦٩ was made December 2013 for Cairo Cinemas theatrical release I hope you like.. 😉
A dying old man is forced to reflect on his past when his sister and grandnephew come to stay, disrupting his comfortable solitary life. Directed by Ayten Amin, the film stars Khaled Abol Naga, Lebleba, and Arwa Gouda.
23. West Beirut (Lebanon, 1998)
Trailer of the film West Beirut (A Week of Lebanese Cinema) / Trailer k filmu Západní Bejrút (Týden libanonského filmu)
In the height of the Lebanese civil war, three intrepid teens roam the streets of Beirut, filming on a Super 8 camera and reckoning with the pains of growing up. Directed by Ziad Doueiri and starring Rami Doueiri, Mohamad Chamas, and Rola Al Amin, the film was selected as the Lebanese entry for the Best Foreign Language Film at the 71st Academy Awards, but was not accepted as a nominee.
24. Beauty and the Dogs (Tunisia, 2017)
Check out the new trailer for Beauty and the Dogs starring Mariam Al Ferjani! Let us know what you think in the comments below. ► Buy or Rent Beauty and the …
A college student seeks help after a brutal assault but faces a bureaucratic nightmare when she reveals that her perpetrators are police officers. Directed by Kaouther Ben Hania and starring Mariam Al Ferjani, Ghanim Alzerlli, and Noomane Hamda, the film was screened in the Un Certain Regard section at the 2017 Cannes Film Festival, and was selected as the Tunisian entry for the Best Foreign Language Film at the 91st Academy Awards, but was not nominated.
25. Zinzana (UAE, 2015)
No Description
Recovering alcoholic Talal wakes up inside a small-town police station cell, where he's subject to the mind games of a psychotic sadist. Directed by Majid Al Ansari, the film stars Ali Suliman, Saleh Bakri, and Yasa.
26. Taxi Ballad (Lebanon, 2011)
On his thirty sixth birthday, the underachieving Youssef finds himself alienated from his friends and family for being single, penniless and with no ambition…
On his 36th birthday, Youssef leaves his small town and moves to Beirut to start anew. While living out of his car, relying on both his quick wit and a bulletproof business plan, he obsesses about becoming the greatest taxi driver in the city. Directed by Daniel Joseph, the film stars Talal El-Jordi, Karina Logue, Badih Abou Chakra.
27. Mercedes (Egypt, 1993)
مرسيدس 1993 تأليف وإخراج يسري نصر الله
In this classic by Yousry Nasrallah, a wealthy man with communist ties gets caught in family dysfunction when he tries to find his half-brother and kill his stepmother. The film stars the inimitable Yousra, Zaki Abdel Wahab, and Seif Abdelrahman.
28. Last Men in Aleppo (Syria, 2017)
The devastating Syrian civil war is brought to life through the eyes of the White Helmets, a group of volunteer rescue workers in Aleppo. Directed by Firas Fayyad, the film won the World Documentary Grand Jury Prize at the 2017 Sundance Film Festival in 2017 and was nominated for Best Documentary Feature at the 90th Academy Awards.
29. The Land (Egypt, 1969)
الأرض لنا، وأنت أخي، لماذا إذاً تخاصمني؟ أنا لا أسمع، وأنت لا ترى وبنا شوقٌ ليدرك بعضنا الآخر فهذي يدي، هاتِ يدك هذي يدي، هاتِ يدك هاتِ يدك من قصيدة "الأرض ل…
A group of peasant farmers fights to protect their village against a corrupt landowner. Adapted from the novel by Abdel Rahman Al-Sharqawi and directed by Youssef Chahine, the film stars Ezzat El Alaili, Nagwa Ibrahim, and Hamdy Ahmed.
30. An Egyptian Story (Egypt, 1982)
يا ناس يا مكبوتة ، هي دي الحدوتة حدوتة مصرية
In this classic Youssef Chahine film, while undergoing heart surgery in London, Yehia reflects on his life as his heart chamber becomes a courtroom where he's tried for his mistakes. The film stars Nour El Sherif, Yousra, and Magda El-Khatib, and was entered into the main competition at the 39th edition of the Venice Film Festival.