Economy
News
Trade
Egyptian company ships citrus fruits to Brazil
Wadi El Zaytoon was already a supplier of olives to the Brazilian market. Last January, its first batches of oranges, limes and tangerines arrived in the country, with an additional 100 shipping containers' worth of fruit expected by June.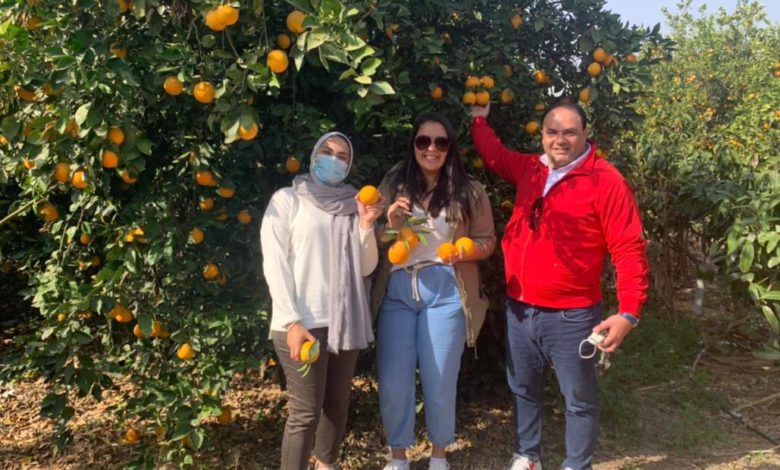 Company Wadi El Zaytoon is one of the first-ever Egyptian suppliers of citrus to Brazil. It shipped off its first two containers loaded with oranges, limes and tangerines late last December, and the shipment arrived at Brazil's Port of Santos in January. Three more containers arrived last Sunday (21), with another five due by March 15, commercial manager Somaya Elarab said in an interview with ANBA. CEO Ahmed Mohamed Abdelkader joined the interview through Zoom. Pictured above are Elarab, Abdelkasser, and a Brazilian importer.
Elarab said Wadi El Zaytoon expects to export 100 containers' worth of fruit by the end of the season in June. The company is a producer and exporter of olive, orange, lime, tangerine, onion, garlic, grape and other items. It has been selling olives to Brazil since 2017, at a rate of about six containers per month.
The company recently became an Arab Brazilian Chamber of Commerce (ABCC) member. "We want to visit Brazil next May or June, and we are planning to set up an office in Brazil, maybe in São Paulo. We are considering this because we wish to step up our exports to Brazil and to introduce new products, such as garlic and onion," said Elarab. She said she sells to importers in Salvador and Rio de Janeiro.
The biggest markets for oranges from Wadi El Zaytoon are Bangladesh and India. Elarab hopes Brazil will follow suit, but said the only kind of oranges that sell in Brazil are large-sized ones, which could be an impediment. "We harvest our oranges and then we separate the small, medium and large ones. We cannot control size," he explained. The orange varieties shipped to Brazil are Navel, Lane Late Navel, and Valencia.
Established 2004, Wadi El Zaytoon is based in Sadat City, in the Monufia province, some 95 km northwest of Cairo, in northeastern Egypt. Last year, a group fo Brazilian importers paid a visit to the company's orange crops.
For additional information and contact details, please refer to the company's website.