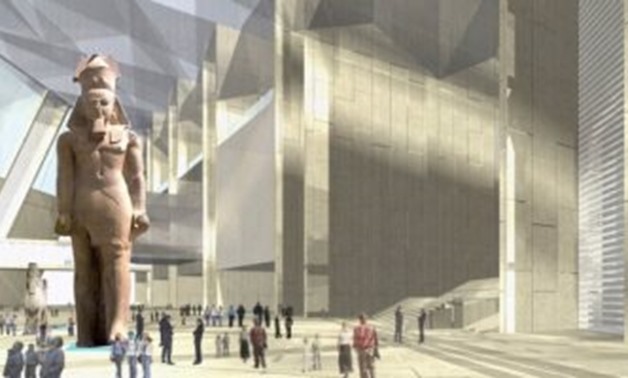 1 May 2019: Minister of Tourism Rania al-Mashat said Tuesday that the Egyptian Grand Museum (GEM) will be inaugurated in the last quarter of 2020.
This came during the minister's participation in the Arabian Travel Market (ATM), which is currently held in Dubai, set to be held on Sunday April 27 till Wednesday May 1.
On Saturday April 27, Mashat headed for Dubai on top of a tourist delegation to take part in the Arabian Travel Market. She stressed the importance of participating in the event in light of Tourism Ministry's strategy to attract more Arab tourists to Egypt.
Egypt is a favorable destination for the Arab tourists, she said, adding that 30 percent of Egypt's tourists came from the Arab market.
Several meetings will be held on the fringe of the event to exchange expertise and discuss ways to boost tourism among the Arab states.
About 56 participants will partake in the 600-meter square event, including 30 tour operators and 22 hotels, in addition to EgyptAir and Air Cairo airlines.
The Grand Egyptian Museum is one of the largest archaeological museums in the world. Thousands of artifacts will be displayed during and after its launching, which will attract many tourists from around the world.
The museum is built on a land area of 117 acres. The project's foundation was laid in February 2002. Construction of the mega project began in May 2005. A total of 100,000 artifacts are being restored to be displayed in the GEM.Furthermore, the GEM consists of 19 restoration labs, making it the largest artifact restoration center in the world.
In addition, the GEM consist one of the biggest artifact documentation units for selected artifacts worldwide. Some of the artifacts planned to be displayed in the GEM date back to the pre-Pharaonic dynasties era (pre-family era).
King Ramses statue was placed in the GEM's lobby entrance to welcome the visitors. It is worth mentioning that the façade of the museum is coated with alabaster stones. Also, the walls of the GEM overlooking the Pyramids will have a glass panoramic view.
The Grand Egyptian Museum will cost $1.100 billion financed by the Japanese government through two loans worth $450 million.