News
Innovations In The Fight Against Corruption In Latin America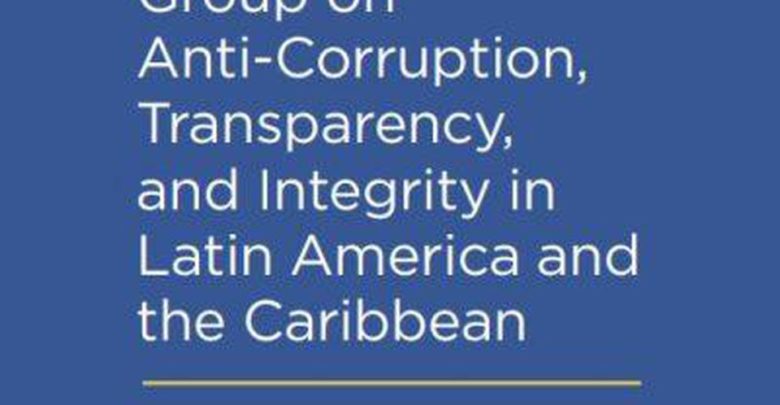 Today is International Anti-Corruption Day, an annual commemoration of passage of the United Nations Convention Against Corruption fifteen years ago. In honor of the occasion, the Inter-American Development Bank (IADB) has published an important, practical and prescriptive report with recommendations for every sector of society from government to individuals on innovative and effective approaches to combatting corruption. While focused on Latin America, the report's proposals, especially those on the application of new technology in the fight against corruption, are relevant around the world.
The report is the work of a eight governance and anti-corruption scholars and practitioners – among whom I was honored to serve — convened by Bank President Luis Alberto Moreno to address the region's most pressing challenge: corruption. The crisis of corruption brings into stark relief the violation of the social contract. When citizens are expected to vote and pay taxes, yet their leaders do not govern in the public interest, democratic legitimacy declines. Pew Research reports that 73% of Latin Americans surveyed are dissatisfied with the way democracy is working in their country. By siphoning off wealth, corruption is also impoverishing the region's economies. By contrast, writes the IADB, "when European and Asian countries improved their governance and anti-corruption policies halfway through the last century, it tripled their GDP per capita relative to most Latin American countries."
Thus, the need and the urgency for the report's myriad legal and policy recommendations and its strategies for using new technologies to spot and route fraud in government and in companies. The innovative recommendations about the use of new technologies, including big data, blockchain and collective intelligence, are drawn from an effort undertaken last year by the Governance Lab at New York University's Tandon School of Engineering to crowdsource such solutions and advice on how to implement them from a hundred global experts. (See the Smarter Crowdsourcing against Corruption report here.)
For example, distributed ledger technologies, of which blockchain is a prime example, when properly designed and governed, can store user identity and transaction information securely and openly. That's why jurisdictions from Jamaica to Ukraine are piloting the use of blockchain to make government records, especially contracting and procurement data, more transparent and less subject to tampering. Ironically, although the distributed ledger technology underlying blockchain may be a tool to fight corruption, cryptocurrency transactions rely on the same technology to facilitate illicit deals and money laundering.
This is why blockchain technology pilots are key but must be complemented with investment in strengthening the culture and capacity of public institutions, including training in the innovation skills needed to know how to how and why to adopt blockchain technology and how to govern its responsible use.
Big data, when published as open data, namely in a form that can be re-used without legal or technical restriction and in a machine-readable format that computers can analyze, is another tool in the fight against corruption. With machine readable, big and open data, those outside of government can pinpoint and measure irregularities in government contracting, as Instituto Observ is doing in Brazil.
Opening up judicial data, such as information about case processing times, judges' and prosecutors' salaries, information about selection processes, such as CV's, professional and academic backgrounds, and written and oral exam scores provides activists and reformers with the tools to fight judicial corruption. The Civil Association for Equality and Justice (ACIJ) (a non-profit advocacy group) in Argentina uses such open justice data in its Concursos Transparentes (Transparent Contests) to fight judicial corruption. Jusbrasil is a private open justice company also using open data to reform the courts in Brazil.
All jurisdictions should publish the range of data needed to combat corruption, such as comprehensive government contracting data pre- and post-bid, more "open justice" information about the process of prosecutions and trials, and citizen corruption complaint data as a means to fight and, hopefully, to prevent corruption from arising.
Open data is as much a policy as a technology solution. In order to have access to more and higher quality data to analyze, governments should comply with international standards for how to publish open data about government contracts, including the open contracting data standard and use the Global Legal Entity Identifier to make it easier to compare records about companies and their activities across different government databases. Other related transparency policy recommendations in the Report include:
Establishing and publishing a registry of ultimate beneficial ownership of all corporate entities and similar legal vehicles including trusts, adopting effective sanctions for untruthful registration.

Enacting policies surrounding the disclosure of the financial dealings of public officials and politicians;

Linking financial and regulatory compliance information sources within a country so that all authorities (including electoral authorities) have access to all the information on a single entity.

Investing in and supporting those outside government, especially in academia and civil society, to scrutinize government data and propose improvements.

Promoting ethics and whistleblower training for both government and companies.
Finally, those collective intelligence technologies that foster solving problems with human brainpower complement the technologies of big and open data. Governments such as Mexico's are just beginning to seek public input aggressively and encourage the public to file corruption complaints online and the Smarter Crowdsourcing effort was a great example of what can happen when we use the Internet to find out more about the innovative and practical ways technology is and could be brought to bear to more efficiently fight corruption in Latin America and the world over. The holiday may be fifteen years old but the tools we now have at our disposal to fight corruption are brand new.
Informations from: https://www.forbes.com/sites/bethsimonenoveck/2018/12/09/innovations-in-the-fight-against-corruption-in-latin-america/#7e0e90a072bc