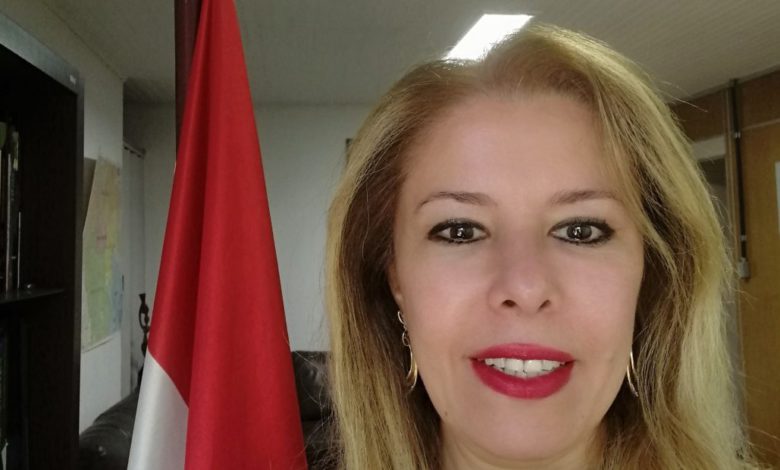 A modern Arab woman. This is the profile of the new commercial consul of Egypt to São Paulo, Nashwa Bakr. Full of dreams but down-to-earth, with an eye on business opportunities between the countries, the diplomat told ANBA in an interview about her career, her arrival in Brazil and first impressions, the challenges she faces, and what she plans to strengthen commercial and diplomatic ties between countries.
"I have always wanted to pursue a diplomatic career, I have always enjoyed traveling and getting to know other cultures, new social aspects of nations, and I have always been interested in serving my country, representing Egypt, and changing the perception of Arab women by different communities a little. I think people had a good impression of me here; people were fascinated by the image of the modern Arab woman," said Bakr.
Born in Kuwait, where her father worked as a professor of English literature at a university, Bakr lived in the Gulf country for 14 years and then returned to Egypt to finish her studies. There she studied Administration and Economics.
In February, the diplomat took up the post in São Paulo, where she should stay for four years. This is her third international post, having spent four years in the Czech Republic and another four in Turkey, where she was also consul. Bakr has been working in commercial diplomacy for twenty years.
The consul intends to expand trade relations between the countries, wants Brazilian companies to invest in Egypt and establish factories there, and wants Brazilian business people to buy more products from the Arab country.
Arriving in Brazil
Bakr faced some hardships when arriving in Brazil because of the pandemic. "The situation here was different from Egypt's; we knew there was a pandemic there, but life was going normal, there was no lockdown, nothing closed, we kept working. Two weeks after I arrived, there was a new lockdown, so it was difficult for me because I had just arrived, it was hard to find accommodation, keep my contacts, and work. It was like that for a month, then the restrictions were relaxed again, and things started to flow again," she said.
About Brazilians, the diplomat said that she found the people very warm and willing to help, and that caught her attention. "Another thing that impressed me was knowing that Brazilians are fascinated by Egypt; everywhere I said I was Egyptian, people were fascinated, they mentioned Cleopatra, the pyramids, the sphinx, history. Not all nations know the history and culture of Egypt as well as Brazil; in many countries I visited, people do not know about the pharaohs or the history of Egyptian civilization," she said. She declared her love for the country that became her home four months ago. "I already love Brazil, and I already love São Paulo," she said.
Challenges
To Bakr, the biggest challenge at her new post will be to make the Egyptian market better known to Brazilian business people so that Brazil can buy more from Egypt. "Some [Brazilian] business people are a little reluctant to do business with Egypt; they do not know the country very well, the business culture, the economic situation, how the financial agreements work. So, it is often difficult to convince business people to do business with Egypt, especially with new products, which they are not yet used to or do not know about the market, in the sectors of agriculture, textiles, food products, among others," said the consul.
According to her, Brazil already has a good image in Egypt, being one of the largest food exporters in the world. "From Brazil to Egypt, everything is pretty easy, there are no issues because Brazil is one of the largest food exporters in the world, not only to Egypt, it is like the world's food security stronghold, the biggest supplier of commodities, so it has a good image," said Bakr.
So, what is necessary for Brazilians to buy more from Egypt? For the diplomat, the essential step is the branding of the Egyptian product, selling more end products and less in bulk, such as olives or Egyptian cotton, which are finished here and sold as Brazilian products.
Goals
"I have big dreams," said Nashwa Bakr. "I don't see Brazilian companies investing in Egypt, for example. There are a few, you can count on the fingers of your hands. So, one of my goals is to encourage big Brazilian players in strategic sectors to invest in Egypt, such as cosmetics industries, to set up factories there and start producing and getting closer to that market. I believe they can prosper a lot in Egypt," she stated.
She also emphasized that Brazilian brands could benefit from the 77 free trade agreements that Egypt has with countries worldwide and gave the example of textiles, leather products, animal protein, electronics, and pharmaceuticals sectors.
"My strategy is to approach big companies in these sectors to talk about it. This is a long-term plan. In the short term, we want to increase trade between Egypt and Brazil," she stated. She explained that since citrus fruit entered the Mercosur-Egypt free trade agreement, Egypt has already exported USD 2.5 million in oranges to Brazil in four months.
Mercosur
About the Mercosur-Egypt agreement, Bakr said there could be a meeting of the trade committee between June and July to review the agreement and its achievements. "We must not add any new products at this time because we already have about 50% of the products under the agreement, tax-free, and until September, we will include new products. The plan is that by the end of 2025, 100% of the products will be under the agreement, free of taxes," she said. According to the consul, products to be included in September are from the construction, textile, and fiber sectors.
The diplomat said the numbers have been growing for the imports of garlic and Egyptian olives. "I want to point out that we are the second exporter of olives to Brazil, only behind Argentina, according to 2020 data. We exported almost USD 30 million," she marked.
Women
Regarding the female presence in Egyptian business, Bakr stated that at a recent meeting with businesswomen, she advised them to sell organic and natural cosmetics to Brazil, such as henna and body creams. "I think it would be a good market niche, products with natural ingredients and with names like Cleopatra and Nefertiti, as we know that Egyptian queens were the first to use cosmetic products in history," she recalls. She also encouraged businesswomen to export decorative items such as replicas of pyramids, sphinxes, and statues of pharaohs.
Translated by Elúsio Brasileiro
Report from ANBA.