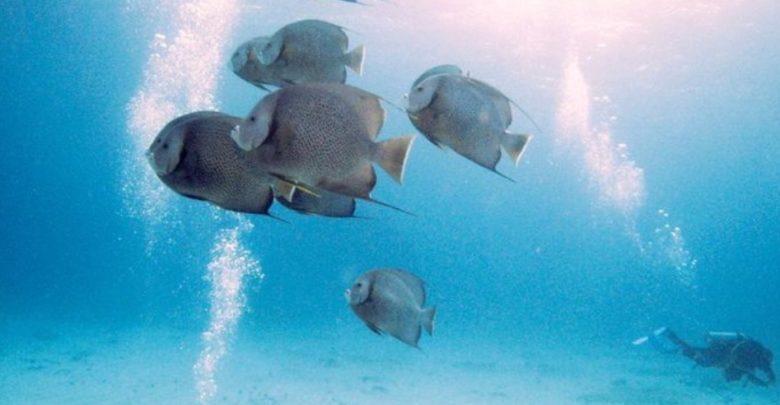 They say you're either an ocean person or a mountain person.
Myself? I'm all ocean, all the time. To me it's still one of the great unknowns. It's so close, and so much a part of our planet, and yet we know so little about it. We have better images of Venus, Mars and the moon than we do of the ocean floor.
And with adventure travel being one of 2018's hottest trends – a trend that will certainly not be going away any time soon – more and more travelers are looking for these unknown experiences to push their limits. Experiences that keep them active – mentally and physically. Experiences that open their eyes to something new – have you ever seen a nudibranch up close? It's incredible. Experiences that tear them away from their phones and our uber connected world and put them back in touch with nature.
So, pack your wetsuit, grab a tank and let's hit it, because these are the 10 must-dive destinations for 2019.
Savusavu, Fiji
Considered the soft coral capital of the world, Fiji's underwater world is something not to miss. From feather stars to nudibranch sightings, to blue starfish and amazing displays of soft coral all along the reef, you never know what will leave you in awe down there.
Plus, you can stay at Jean-Michel Cousteau's resort, where the legendary octogenarian is known to often pop in. Meaning you never know when he might join your boat on a dive, which, take it from me, is just about one of the coolest diving experiences you could ever have.
The one dive site not to miss: Namena Marine Reserve.
Cuba
While Cuba is on everyone else's travel list right now for one reason or another, it's on this list for one big reason – saltwater crocodiles. Yes, you heard me right.
Because in Cuba you can actually go diving with these completely terrifying, totally spectacular reptiles. There's just something to be said about floating beside a 23-foot-long crocodile through saltwater mangroves that will have your heart pounding and your adrenaline rushing. And since these are earth's largest living crocodilian – and, according to National Geographic, the animal most likely to eat a human – this is the most daredevil dives you can set your sights on this year.
The one dive site not to miss: Jardines de la Reina
Dahab, Egypt
The Sinai Peninsula has seen it's fair share of troubles in years past, but things are turning around for the area. Tourists are finally returning, and things are getting back to normal. But, let's face it, when it comes to diving, a lack of tourists isn't the worst thing to happen to an area. A lack of divers (and the pollution that inevitably comes with tourists) gives the reefs a chance to regrow in peace. And that's exactly why this is one of the best places to see undestroyed reefs and plenty of wildlife right now. And with more than their fair share of great sites – all accessible from the shore – Dahab is a diver's paradise. Plus, dive shops like Red Sea Relax's dive center only charge €25 (less than $30) a dive. So, it doesn't get much better than that.
Plus, the Blue Hole is one of the deadliest dive sites in the world, so that's certainly something to (safely) cross off your diving bucket list.
The one dive site not to miss: El Bells to the Blue Hole
La Paz, Mexico
Jacques Cousteau famously called the Sea of Cortez "the world's aquarium" and there's good reason for that. There are plenty of water experiences to have in the world's aquarium, with La Paz as the ideal starting point for all of your aquatic adventures.
From swimming with whale sharks and sea lions at Isla Espíritu Santo to doing a night dive with giant manta rays – it's El Bajo, the underwater mountain that groups of hammerhead sharks are drawn to that really seals the deal on La Paz being one of the world's top diving destinations.
The one dive site not to miss: El Bajo
Bodrum, Turkey
Diving in the Aegean Sea is often overlooked since the Mediterranean is just around the corner. But that doesn't make the diving any less exciting. And heading out to Orak Island, a tiny rocky island just off the coast of Bodrum, calm and secluded bays make this area a less than typical, but still completely fantastic area for diving.
With an otherworldly landscape and steep rock walls abruptly dropping more than 130 feet down into the blue, diving here is a sight to see. This is where you dive for the landscape, not for underwater life. Although there is plenty. And while more advanced divers can descend into the depths to explore the caverns and hollow rocks that await below, beginners have plenty to explore here as well.
But it isn't just Orak Island that's great in this area, the C-47 Dakota Airplane Wreck, an eerie sunken airplane that should scare the pants off any diver, is another dive site worth jumping on a dive boat for.
Durban, South Africa
If, like me, you still think of Jaws just about every time you jump in the water, maybe this dive destination isn't for you. (This list of fatal shark attacks that have occurred in South Africa definitely isn't either.)
But sharks get a bad rap. While they're certainly one of the planet's most feared creatures, they're also one of its coolest. They're king of the ocean. But they're also beautiful to watch. And admittedly, it's almost impossible not to tense up when you're underwater and you see one coming your way.
But it's also completely thrilling to come face to face with your fears. And to see schools of these graceful creatures in their natural habitat. And from blacktip to tiger to bull, to hammerhead and great white, Durban is one of the best places in the world to see these beautiful creatures in the wild. Dive operators even offer the chance to go on baited dives, because why wouldn't you want to face your fears head-on and see a school of sharks feeding right before your eyes?
The one dive site not to miss: Aliwal Shoal
Musandam Peninsula, Sultanate of Oman
Heading out into the Strait of Hormuz from the northernmost point of the Sultanate of Oman, and out into the Persian Gulf, what lies below the surface in this rarely disturbed part of the world is truly magical.
From macro goodies to larger than life surprises, visibility in this area can sometimes be touch and go thanks to the mix of currents, but the area's unique underwater landscape more than makes up for the sometimes less than ideal conditions. Because you never quite know what you'll find as you make your way along the eroded limestone cliffs and caves – you may just find yourself swimming next to a group of rays or sharks.
The one dive site not to miss: The Caves
Easter Island, Chile
As one of the most remote and untouched islands in the world, there's no denying the allure of diving this part of the Southern Hemisphere, a place where most other divers don't even dare to consider making the arduous trek to.
But considering visibility can reach up to 200 feet and that there are around 160 species of animals – including the green turtle, which you'll see plenty of here – there are plenty of reasons making the trip out here worth it. And not only that, but you know those mysterious giant heads that Easter Island has become so famous for? Well, at the Moai dive site you'll even find yourself swimming around one of them underwater.
The one dive site not to miss: The Moai Site
Curaçao
Even those of you out there that just aren't that into scuba diving (mountain people, gasp!), even you can't deny just how beautiful this tiny Caribbean island's water is. Yes, even you, mountain person, will want to take a dip in this idyllic bathwater. Which is exactly why it's no surprise why this tiny Dutch island has made this year's list.
Because when the water is so clear that it actually looks like boats are levitating mid-air, you're onto a place that's pretty surreal both over and underwater. So, for the people who are into diving, you can only imagine just how exciting it is to get below the surface and see what else awaits in these magical blue waters.
The one dive site not to miss: Watamula
Yap Island, Federated States of Micronesia
There's always one creature that alludes a diver. Whether it's whale sharks, eagle rays or hammerheads, there's always one particular creature that a diver is dying to see, but somehow just always seems to miss.
For me, it's the giant manta ray.
No matter how many dives I go on specifically to find them, I just somehow never have any luck spotting these beautiful Mobulidaes. But I haven't been to Yap Island, and that's where I'm going wrong. Because Yap is a ray paradise. And while you can find them here year-round, the best time for calmer seas, and easier conditions for diving, is from late May to early November. And there's even a manta ray awareness specialty course that divers can take when they get here.
I certainly know where my travel plans will be taking me this upcoming May.
The one dive site not to miss: Valley of the Rays
Information from Forbes.