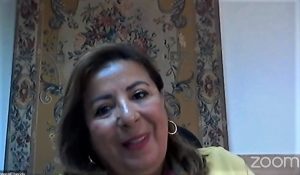 Sarah Ayed is the Chief Strategy Officer at the Jeddah Chamber of Commerce, in Saudi Arabia, and Yomna El Sheridy is director and CEO with Special Foods and chair of Business Women of Egypt 21 organization. This Wednesday (15) saw them join Brazilian businesswomen for a webinar hosted by the Arab Brazilian Chamber of Commerce (ABCC). The online event also featured the launch of the ABCC Women's Committee and got viewed by over 800 people in Brazil and the world over. Pictured above is Sarah Ayed.
The executives related how they've adapted to the worldwide lockdown, what changed within businesses, the work from home and at manufacturing plants, and shopping behavior. Yomna said she couldn't implement remote work, since she's in olive production and needs people at the plant. People are having to step out of their comfort zones, she said. "Women will always find a way to overcome problems," Yomna argued.
The Egyptian businesswoman said she had to find new ways to connect with clients and keep the business going. "The pandemic forced us to fast-track our digitization. Our digitization project had always been kind of brushed aside, but the crisis led us to put in place online payment methods fast, and we weren't that used to this system. We also worked with other platforms to enable us to sell to other parts of the world," said Yomna.
She created her own page online and is working with platforms such as Amazon, which helps her reach out to clients. Yomna managed to keep all her staff, but many other factories in Egypt couldn't. She also had to make adaptations regarding markets.
"We used to export 100% of our output. Everything we made used to be for export. For the first time ever, we stopped and said 'Let's look into the local market. Let's do something different for the local market'," she said. She and her employees had to tackle new challenges. They had to deal with local clients, figure out their profiles, and work out the market to find ways to keep revenue streaming in and keep the business afloat amid the pandemic. "In practical terms, I'd argue that a few positive things have come from this crisis," she said.
Yomna discussed two other aspects that had to be changed. One was the use of different media to promote her products. "Another thing is we started working online, and this meant having more women take on leadership positions," she said. "We're always fighting to survive and to get the best out of this crisis."
Sarah Ayed
Saudi businesswoman Sarah Ayed said everyone in her company will keep working from home until at least mid-August or September. She recalled that early on in the lockdown was a difficult time for everyone. "In the beginning it was all very confusing. The communities, the businesses and the people didn't know what was going on. And we all had to face a lockdown. In different time windows, we had to go home. The businesses shut down," she said.
Sarah also mentioned the impact on workers' mental health, and the importance of ensuring the wellbeing of families. "Many businesses were ready to go into virtual mode, but it was tough for people to get in the mood. Because it's not just about working from home; you need to be mentally prepared for it. As the schools closed, the children went home with their parents. We had to work to make sure the families, the teams, the people were doing well. We had to focus on health aspects with a lot of responsibility in everything we'd do," she said.
Sarah's work involves communication in the services industry. She said she deals with people and needs to approach what's going on from the work and family perspectives. "At home, anywhere in the world, at least when it comes to our business, we can log into the company system, check out our panel and get to work," she said. But clients' conditions had to be taken into consideration to make sure that deadlines were met. Flexibility enabled them to take on the pandemic's challenges together.
Regarding the "new normal," Sarah said that before going back into the office, a few guidelines need to be worked out. "We can't just drag people back to work if the office isn't ready. So we decided that people aren't going back before at least mid-August or September, so that we can prepare the office to comply with regulations, because health is really important. Moreover, if people have to go back, where will the children stay? That's another factor to consider to make sure everyone in the team is satisfied and ready to go back and all guidelines are observed," she said.
Sarah Ayed also said that the Saudi administration created business stimulus packages, and that she had been working under global mentorship and entrepreneurship programs that got interrupted as the pandemic broke out. After than she started having online sessions with business personalities from all over the world, giving lectures in platforms like Instagram. "So what matters the most here is adaptation. You need to work out an efficient, adaptable way for everyone," she said.
She congratulated the ABCC on the creation of its WAHI Women's Committee – wahi is Arabic for 'inspiration.' "It's a beautiful name for a truly admirable program. Building bridges, reacting opportunities and connecting businesswomn in Brazil and the Arab world is a great idea. This is an initiative we'd like to see more of going forward," she said.
Speakers in the webinar also included Brazilian businesswomen Natalia Klafke, general manager with Radix Engenharia e Software; and Ana Paula Kagueyama, senior Global Customer Services director and site leader with Paypal Brasil. The event kicked off with an address from ABCC president Rubens Hannun, with moderation by ABCC commercial manager Daniella Leite.
Also featured was ABCC Women's Committee president Alessandra Frisso, who's director of ABCC member company H2R – a research institute. Previously filmed statements from the Committee's board members Claudia Yazigi Haddad, Janine Bezerra de Menezes and Silvia Antibas were shown. Towards the end of the webinar, Mobilisa Soluções Tecnológicas CEO Isabella Gelencsir and Dubai's High Class Corporate Services partner Cecilia Bicca asked questions. Both companies are ABCC members.
Here's another story on the webinar:
Democratizing technology a Low Touch Economy challenge
You can watch the full webinar here:
Uploaded by CamaraArabeTV on 2020-07-15.
News from ANBA website.