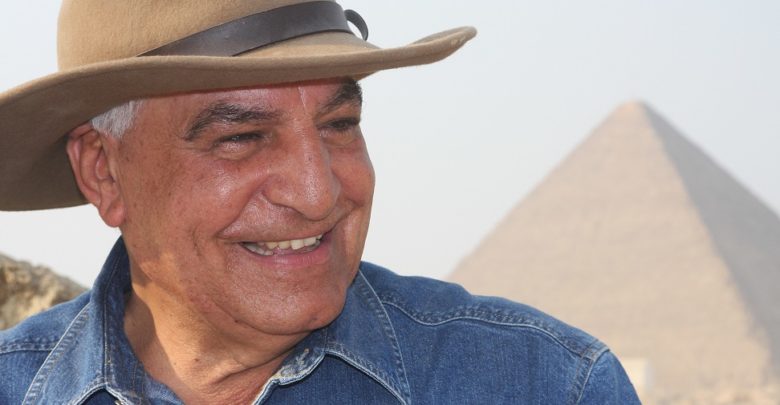 São Paulo – Egypt's best-known archaeologist, Zahi Hawass (pictured above), will be in Brazil next December to deliver lectures in São Paulo and Rio de Janeiro about his latest finds and discoveries. He was responsible for numerous archaeological finds in Egypt, including the tombs of the builders of the Giza Pyramids, the Valley of Golden Mummies in Bahariya Oasis, and the mummy of queen Hatshepsut.
Hawass' trip to Brazil is being arranged by Minas Gerais state travel agency Hórus, which said this will be the archaeologist's first time in Latin America. His lectures will take place on December 16, 3 pm and December 18, 8 pm at Casa Lucci Morumbi, in São Paulo's Vila Progredior neighborhood. In Rio, he will speak on December 22, 6 pm at Windsor Barra Hotel Windsor Barra Hotel, in the Barra da Tijuca area.
The lecture, which he has been touring the world with, is entitled "Mummies, Pyramids and Cleopatra: new finds." Hawass will go over his discovery of the mummy of queen Hatshepsut, the mummies of king Tutankhamun, the mysterious death of Ramses III, new finds in the Great Pyramid (like its secret doors), the tombs found in Saqqara and the search for the grave of queen Cleopatra VII, which is ongoing.
Zahi Hawass is a former Egyptian minister of Antiquities who became popular worldwide for his movies and documentaries on Egyptian archaeology, aired on channels like BBC, Discovery Channel, National Geographic, History Channel, etc. With over 50 books published, Zahi Hawass was named one of the 100 most influential people on the planet in 2006 by Time magazine.
Hórus Viagens is owned by Brazil's Michelle Bastos and her husband, Egypt's Sedik Faragalla. They met in 2013 in Greece and lived in Egypt for some time before relocating to Brazil, where they decided to open a tourism industry business in 2016. Faragalla holds a degree in Language and Literature with a major in Egyptology and worked in the industry back in his country. Michelle is a journalist and has created content on tourism in the past.
Hórus is based in Juiz de Fora and specializes in Egypt. When it comes to Middle East destinations, it also works as a tour operator, creating travel packages. For trips elsewhere, it operates as a travel agency.
According to Michelle, the idea of bringing Hawass to speak in Brazil came up during a conversation with Egyptologist Flávia Haddad, to whom she got introduced by her husband's Egyptian uncle Ali Ghoneim. Ghoneim is close with Hawass and owns a travel company in Egypt, Moon River, which is partners with Hórus Viagens. "He said he'd never been to Latin America and thought it was a great idea," Michelle said.
Tickets are available from the event's website and prices range from BRL 200 to BRL 350. The sooner the purchase, the cheaper the ticket. Zahi Hawass will lecture in English and simultaneous translation will be available via earphones.
Quick facts
Lecture "Mummies, Pyramids and Cleopatra: new finds"
With archaeologist Zahi Hawass
São Paulo
December 16, 3 pm and December 18, 8 pm
Casa Lucci Morumbi
Rua Clóvis de Oliveira, 224 – Vila Progredior
Rio de Janeiro
December 22, 6 pm
Windsor Barra Hotel
Avenida Lúcio Costa, 2.630 – Barra da Tijuca
Find out more: contato@horusviagens.com or +55 32 3031-4707
Click here to get your tickets
by Isaura Daniel – NBA
Translated by Gabriel Pomerancblum