News
Cine África to screen Arab movies from Egypt and Sudan
From September 10 to December 2, Brazil African Film Festival will screen movies from eight different countries in the Cine África project on Cinema em Casa com SESC's website.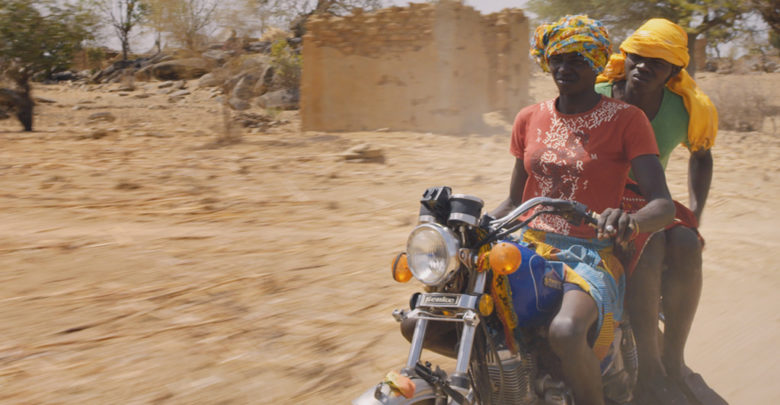 From September 10 to December 2, Brazil African Film Festival will present the 9th Cine África, an online free project to screen 12 movies every Thursday on the  Cinema em Casa com Sesc platform. Among the ten feature-length movies and two short films programs are two Arab feature films. They are the romantic comedy "aKasha" (pictured above) from Sudan and the drama "Poisonous Roses" from Egypt. The other countries represented are Burkina Faso, Cameroon, Ethiopia, Nigeria, Kenya, and Senegal. Cine Africa is organized by SESC São Paulo and supported by the Arab Brazilian Chamber of Commerce.
Every Thursday for three months, the show will debut a new film, which will remain available for a week on the platform alongside an exclusive interview with its director. All movies and interviews have Portuguese subtitles.
The opening movie will be the drama "Borders" (Burkina Faso, 2017) by director Apolline Traoré. The film follows four women during a dangerous journey from Senegal to Nigeria.
Among the first-run movies is the comedy "aKasha" (2019) by hajooj kuka, the first feature fiction film by the Sudanese filmmaker and activist which premiered at the Toronto Festival.
Other important title is Kenyan drama "Supa Modo," which opened last year's Brazil African Film Festival and tells the story of a terminally ill young girl who dreams of being a superhero. This year, the movie will close Cine África.
"For us, it's essential to always include the Arab countries in the program as many people forget that the North African countries are Africans, and these industries are key to understand the African cinema. With a wide range of contents, formats and aesthetics, the African Arab movies always bring good surprises," the show's curator Ana Camila Esteves told ANBA.
Esteves says that Cine África gives her the freedom to include movies that have left the festival circuit. "'Poisonous Roses' has been in several Brazilian festivals but unfortunately was not commercially distributed, but it's an amazing movie, so we made sure to include it in the program. The love story talks about a sort of obsession between the protagonists and is very provocative from an aesthetic point of view, and I believe it is a highlight in Egyptian contemporary cinema," she said.
"As for 'aKasha,' it's the second feature film by hajooj kuka, who I see as one of the most promising African filmmakers. In 2018, we screened his documentary 'Beats of Antonov' (2014) and we are now very happy to screen his first fiction film. We are great admirers of his work as an artist activist, which reflects on the Sudanese civil war in a very eloquent, honest way," the curator said.
A chat about "African cinemas in digital contexts" is also planned for the Cinema da Vela, a traditional meeting of São Paulo Cinesesc that will run online due to the COVID-19 pandemic.
Cine África also includes the three-month course "African Cinemas: Trajectories and Perspectives" and the launch of an e-book by the end of the season with texts about the universe of African cinema in several formats: articles, essays, interviews and reviews. Registrations are free and start on September 10.
aKasha (78 min, Sudan, 2018)
The romantic comedy by Sudanese director hajooj kuka tells the story of revolutionary soldier Adnan, who lives in a rebel-controlled area in Sudan. He spends his days besides an AK-47, always ready for strike. However, the young man seems increasingly distracted by his feelings for Lina. In this chaotic war-torn context, they start an unusual love story, ignoring all possible consequences.
Poisonous Roses (70 min, Egypt, 2018)
The Egyptian drama film directed by Fawzi Saleh tells the story of 28-year-old Tahya who lives in a small neighborhood of Cairo, surrounded by religious, conservative values. Her younger brother plans a boat refugee in Italy, and she finds herself divided between her desire to go along him and her duty to make him stay. The solution for her problems seems to arise in form of a mysterious shaman, who watches her constantly.
Cine África Full Program
September
9/10 (Thu) – "Borders" by Apolline Traoré (Burkina Faso, 2017) – Drama – 91 min;
9/17 (Thu) – "Aristotle's Plot" by Jean-Pierre Bekolo (Cameroon, 1996) – Comedy – 71 min;
9/24 (Thu) – "aKasha" by hajooj kuka (Sudan, 2019) – Comedy – 78 min;
9/30 (Wed) – Cinema da Vela on African Cinemas in Digital Contexts. Participants: Ana Camila Esteves (Brazil), Marina Gonzaga (Brazil/France) and Jorge Cohen (Angola).
October
10/1 (Thu) – "New Moon" by Philippa Ndisi-Hermann (Kenya, 2019) – Documentary – 70 min;
10/8 (Thu) – "The Ghost and the House of Truth" by Akin Omotoso (Nigeria, 2019) – Drama – 107 min;
10/15 (Thu) – "Poisonous Roses" by Fawzi Saleh (Egypt, 2018) – Drama – 70 min;
10/22 (Thu) – "Madame Brouette" by Moussa Sene Absa (Senegal, 2002) – Drama – 101 min;
10/29 (Thu) – "Beyond Nollywood – Smiling and Suffering" (Nigeria) – Shorts Program – 99 min;
November
11/5 (Thu) – "Nothing Wrong" by several directors (Switzerland, 2019) – Documentary – 49 min;
11/15 (Thu) – "Price of Love" by Hermon Hailay (Ethiopia, 2015) – Drama – 99 min;
11/19 (Thu) – "Quartiers Lointains – Afrofuturism" (French diaspora) – Shorts Program – 100 min.
11/26 (Thu) – "Supa Modo" by Likarion Wainaina (Kenya, 2018) – Drama – 74 min.
Watch the trailers below:
Translated by Guilherme Miranda