Investment
News
Opportunities
Council to award Brazilians in Egypt
The Global Council of Sales Marketing organized a talk with the Egyptian trade consul in São Paulo, Mohamed Elkhatib, and others, about the WOCA prize to be given to Brazilian companies to occur in June in Cairo.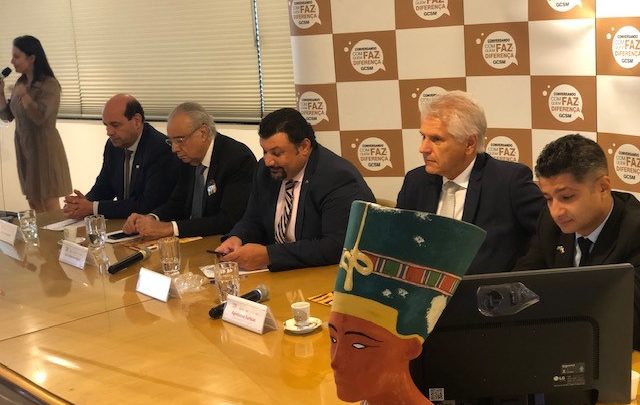 The corporate event "Talking with who makes a difference" was hosted by the Global Council of Sales Marketing (GCSM) in São Paulo this Wednesday (13) morning with the theme "Egypt and its Opportunities." The event's goal was to bring together entrepreneurships interested in going to Brazil-Egypt Economic Forum and to the award ceremony of the fifth edition of the World Company Award (WOCA) for Brazilian public and private companies in Brazil, to be held in Cairo from June 19 to 23.
The talk was with Egyptian trade consul in São Paulo, Mohamed Elkhatib, who discussed the trade relation between both countries; Hórus Viagens owner Sedik Faragalla, who discussed tourism in Egypt and said that, in addition to the corporate event, there will be a cruise through the Nile River for those interested; GCSM president Agostinho Turbian, who talked about the award and encouraged the businessmen to participate. José Roberto Maluf, president of the Grupo Spring de Comunicação, completed the table and talked about commerce and culture in the Arab country.
The awarded company of this edition of WOCA was Eletrobras, a federal government holding company that owns companies in the electric sector, represented by the president Wilson Ferreira Junior. "He took over an Eletrobras worthy of BRL 6 billion (USD 1.6 billion) some years ago, and with great management  it is now worthy BRL 35 billion (USD 9.3 billion), so that's what we are rewarding, the efficiency, the ethics in the public realm," said Turbian. The winner will earn a trophy, a gold plaque, and a certificate of honor in public management. BRF, Embraer and Eletrobras were shortlisted.
According to Turbian, the event will have an official entourage of entrepreneurships interested in doing businesses in Egypt, the Arab world, and Africa, in addition to Brazilian public authorities. "We already have 80 people in the entourage, with businessmen such as José de Podestá, from the Wave Corporation, and public authorities from cities in São Paulo, and the former governor Geraldo Alckmin," he said. "Public administrators have trade interests between their cities and states and Egypt. São Paulo and Minas Gerais, for example, export a lot and buy many products," Elkhatib explained.
José Roberto Maluf said to ANBA that the trip that comprises the award includes a city tour in Cairo, a gala dinner with the award ceremony, and the economic forum where Brazilians and Egyptians will talk. "Today's event is a preparation to talk a little about what we will find there, who will be the players, who will be present; that is why we are hosting this talk, for people to catch up with the topics and prepare for the Brazil-Egypt Economic Forum," said Maluf.
Sedik Faragalla from Hórus Viagens told ANBA that 10 people have already bought the trip package to Cairo for four days to participate in the award, including the city tour, followed by a three-night cruise through the Nile River, stopping in Luxor and Aswan, and arriving at the Hurghada beach in the Red Sea. In his speech, he said that only in January he took five groups of Brazilians to the country. "Egypt is a relatively cheap destination – with a budget to spend a week in Europe, you can stay in Egypt for a month; we have great hotels for reasonable prices, and our agency has Portuguese-speaking guides," he added.
The Egyptian ambassador in Brasília, Alaa Roushdy, couldn't come and send a video message saying the embassy is working together with the event so that it goes as smoothly as possible, and wishing that relations between both countries to be strengthened.
Brazilian ambassador in Cairo, Ruy Amaral, also sent a message encouraging Brazilian entrepreneurships to visit and do businesses with Egypt. "I'm glad this year's WOCA will be in Egypt, a very safe, beautiful country, with a unique heritage. I'll see you here," he said. Amaral also reported Egypt was the main destinations for Brazilian exports in the Arab world last year, and imports of Egyptians products to Brazil increased by 74% in 2018, due specially to fertilizers. Exports to the Arab country last year surpassed USD 2 billion, and the Brazilian products most consumed by Egyptians are beef, iron ore, corn, and sugar.
The World Company Award (WOCA) occurs in Cairo from June 19 to 23, 2019. The Global Council Sales Marketing is an entity aiming to foster and disseminate the best business practices in the areas of sales, marketing, information technology, business intelligence, communication, and entrepreneurship in Latin America and the world.
Translated by Guilherme Miranda
Informations from ANBA.