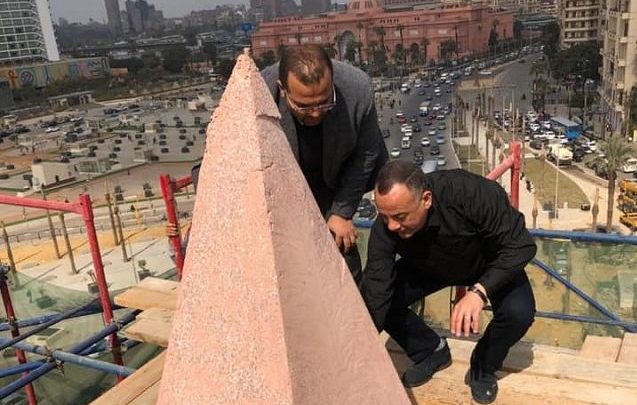 By the end of this month, Egypt's Tahrir Square will have become an open-air museum. Al Ahram reported that the project is part of a strategy to bring more tourists to historic Cairo, especially since government offices will be relocated to the New Administrative Capital, whose construction is slated to start in June.
Various Egyptian government entities are working on Cairo's largest square, where 2011 demonstrations in what has since become known as the Egyptian Revolution culminated in the ousting of former president Hosni Mubarak, who'd been in power for 30 years.
Tahrir Square will be an extension of the adjoining Egyptian Museum. Attractions will include four ram-headed sphinxes, Al Ahram quoted the project's general engineering consultant Waleed Mansour as saying. Also featured will be a 90-ton, 17 meter-tall obelisk from the Ramses II era "which was found in the form of eight large blocks at San El-Hagar archaeological site in the city of Zagazig in Egypt's Nile Delta," the Egyptian daily reported.
Apart from other architectural pieces, Tahrir Square will be lined with pharaonic-era plants such as "date trees, olive trees, fig trees, and carob trees, in addition to papyrus, for which the ancient Egyptian civilization was famous." The obelisk will be on a pedestal to prevent damage and surrounded by artificial waterfalls. The renovation "includes replacing the square's tiles and sidewalks, painting all metal fences, walls and street posts, planting greenery, and installing marble benches to reflect the Egyptian civilization."
Informations from ANBA.