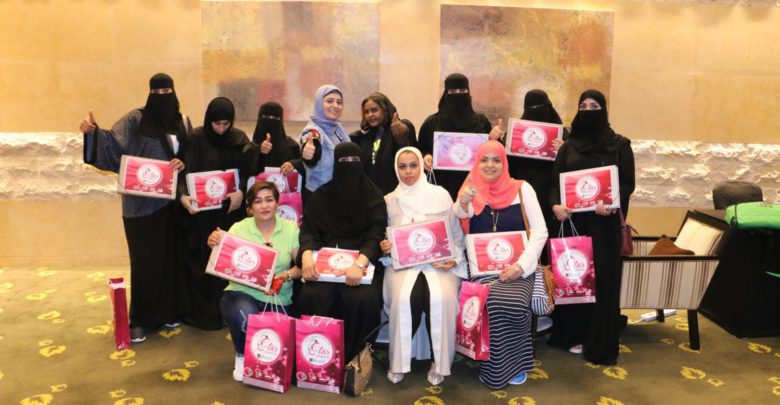 Rasha Shelbaya of Egypt created a cosmetics brand and resorted to the internet and her own charisma to become a household name around the world. currently a digital influencer, she started working in the beauty industry in Egypt in 2009. After six years' experience in the field, she decided to build a brand in Brazil – Star Cosmetics. Over a decade ago, when the Brazilian keratin hair treatment became known in the Middle East, Shelbaya grew fond of the technology, and so she started researching more similar products to test out and export to the region. She has since become an exclusive agent for multiple Brazilian brands, and she has looked into both the industry's strong suits and bottlenecks.
"That's why I decided to create my own brand, to provide solutions to those problems by making an organic formula with exclusive technology to create a high-quality brand that's on par with the best-known, most successful cosmetics brands in the world. I got my won R&D team to come up with new technologies and proprietary formulas. After three years of hard work, we became the first Brazilian cosmetics company to get an ISO on R&D. It's a great honor to be able to get to this level, which is unprecedented in Brazil," she said.
The Star Cosmetics CEO speaks proudly of the fact that her brand is registered in Egypt, where multiple legal requirements are in place. "We are proud to be the first Brazilian company whose entire product line is registered with Egypt's Ministry of Health and the SFDA (Saudi Food and Drug Authority), in Dubai and Saudi Arabia. All of our lines were also approved by the FDA (Food and Drug Administration) when we began to sell to the United States," she said.
Digital influence
A trailblazer, Rasha Shelbaya looked to the internet to provide details and spread the word about her products. She uses three different outlets to stay in touch with her audience – which exceeds 600,000 on Facebook, which is her main platform. "I started Facebook in 2009, then YouTube in 2011, and then I went on Instagram. I have 666,000 followers on my Facebook page, which is my most effective channel right now. My YouTube account has over 6 million views and 45,300 subscribers. Last year, I began working on Instagram, since it's an important channel for beauty influencers around the world. All of these tools are really helpful when it comes to clients trusting you," she said.
According to her, social media channels make it easy to interface with customers as well as with industry professionals. "You get to announce each new technology, explain your products and your results, and to ask clients to show people who are not familiar with us yet what they can expect from our products. And then you get to know what people are shopping for, what they need, what their problems are," she said regarding audience feedback, which is like a direct customer survey.
The company sells to countries including the United States, France, Saudi Arabia, Oman, Libya, Qatar and Kuwait. She believes social media work is a must these days, no matter what demographics are targeted. "I am the only Egyptian and Arab woman who invested legally in Brazil in cosmetics, while still living in my own country, and I depend on my wonderful Brazilian team," she said, mentioning the support she gets from institutions like the Arab Brazilian Chamber of Commerce and the Brazilian Brazilian Association of the Cosmetics, Toiletry and Fragrance Industry (Abihpec). Star Cosmetics is an Arab Chamber member company.
The company sells B2B, and Shelbaya explains that Star Cosmetics chose to work on the international market from the get-go. It has been to four editions of the Beauty World Middle East, in Dubai, as well as events like the African International Fair, in Egypt. "We do not focus on selling a lot. Our focus is on product quality, and our quality control relies on a high-level chemist team," she said.