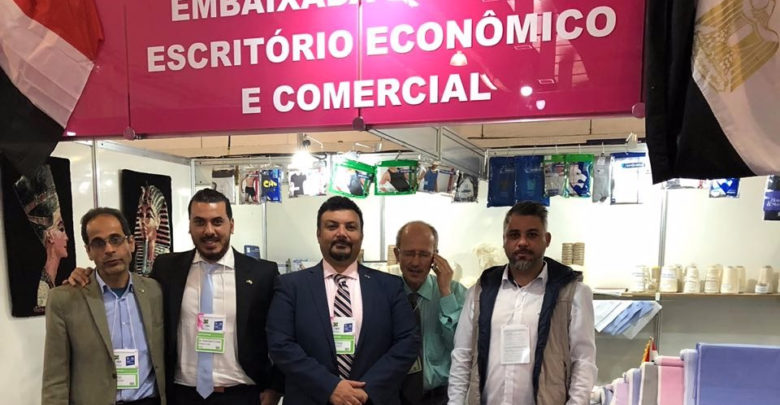 São Paulo – Textile products by Egyptian companies will be on display until next Thursday (13) at the 6thGotex Show, the international fair which opened on Tuesday (11) in the Yellow Pavilion of Expo Center Norte, in São Paulo. The stand organized by Egypt's Economic and Commercial Office in São Paulo features about 20 brands from the Arab country. Items on offer include yarn, fabric and Egyptian cotton shirts, all of which are known worldwide for their excellent quality.
The Office's head and Egypt's commercial consul Mohamed Elkhatib (pictured above) told ANBA that Egypt already supplies raw material for the Brazilian textile industry, and that major companies in Brazil manufacture products using Egyptian cotton. "But there are opportunities for further deals, he said.
The consul points out that Egypt's is the best-known variety of cotton in the world, Brazil included, for its long fibers. He also says Egypt boasts a comprehensive industry covering all parts of the production chain – from cotton and fiber to yarn, thread, fabric and clothing, and that there are opportunities for these items in the Brazilian market.
Elkhatib believes the Mercosur-Egypt free trade agreement that became effective late last year creates even more opportunities in trade, since import taxes on the industry's products will be zero in ten years' time, and this will make Egyptian product more competitive in Brazil.
Items on display at the Gotex stand include men's underwear and socks made with Egyptian cotton by Embrator, fabric and shirts by Nasser Tex, carpets by Oriental Weavers, fabric by the Nile Linen Group.
Lotas Comércio Exterior, a Brazilian importer of Egyptian items, is also at the stand. It brings multiple brands and product types from the Arab country into Brazil. "Being at the fair is an opportunity to publicize our products," Lotas sales manager Vasni Mantovani said. According to him, Gotex is a go-to event and a trendsetter for raw materials and finished textiles.
At the Egyptian stand, Lotas is showcasing items such as high-end shirt fabrics and shirts by Nasser Tex, decor fabric by Cozman, thread for all purposes by brands like Mediterranean and Miratex, linen thread by Egyptian Flax and bedsheet fabric by the Nile Linen Group. Nasser Tex fabrics imported by Lotas include the Officine Tessuti collection, based on the latest European trends.
Nile Trading imports Egyptian shirt fabric by two brands, one being Nasser Tex. Its products are also on offer from the stand. Nile's owner, the Egyptian-born, Brazilian-based Yasser Farid, said he sells to shirt and clothing makers and distributors in Brazil. His company is based in São Caetano do Sul, São Paulo. "The Brazilian market needs high quality product," said Farid.
According to Elkhatib, the stint at Gotex this year is a test run. If it becomes clear that there are real opportunities for Egyptian companies in Brazil, then the country will have a full-blown pavilion in the show next year. The consul asserts that the fair is indeed geared at industry professionals, and this is what the Egyptian exhibiting companies are looking for.
Ninety percent of exhibitors at Gotex are non-Brazilian, said Carlos Barrinha, the CEO of oitocom, the agency organizing the show. He also said Egypt is being featured for the first time. "The manufacturing culture of Egyptian items in itself adds value to the show," he told ANBA. According to Barrinha, Gotex is not a show with high turnout, but visitors are industry-specific and the latest trends are on display.
As per material made available by the Gotex press office, the show features roughly 100 brands this year, hailing from places including Brazil, China, South Korea, Egypt, Hong Kong, Mexico, Pakistan and Peru. The event also features daily lectures on women's fashion trends, print designs, etc.
Gabriel Kawamura Pomerancblum -ANBA