News
Office News
Opportunities
Brazil, Egypt business leaders joined Cairo forum
Executives from big companies participate in forum in the Egyptian capital on Thursday and declared their willingness to foster bilateral relations.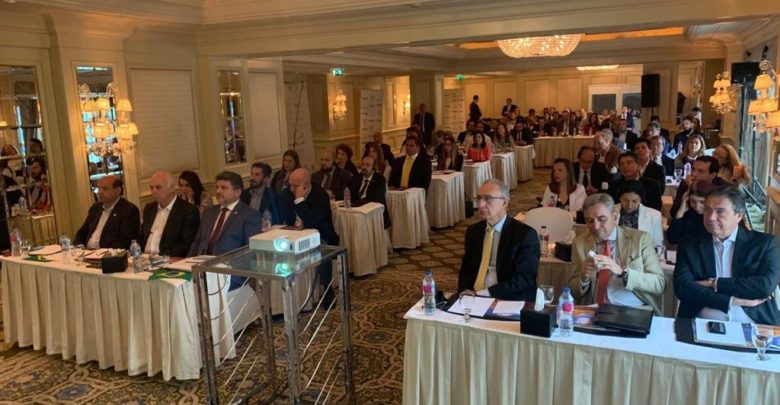 Businessmen on top of big companies and organizations from Brazil and Egypt are willing to work for the expansion of the relations between both countries. This was evident on Thursday (20) during Brazil-Egypt Economic Forum (pictured above), which took place in Cairo, featuring public and private sector representatives from both countries.
Some of the representatives included Brazilian Electricity Regulatory Agency (ANEEL) director-general André Pepitone da Nóbrega, Eicon CEO Luiz Alberto Rodrigues, São Paulo former governor Geraldo Alckmin, Eletrobras CEO Wilson Ferreira Junior, Arab Brazilian Chamber of Commerce president Rubens Hannun and CEO Tamer Mansour, and others. The event was held by Global Council of Sales Marketing (GCSM) and Arab Brazilian Chamber.
"Egyptians are very excited and so are Brazilians," said Hannun about their willingness to work for Brazil-Egypt. This Thursday event was part of a larger schedule of the Brazilian delegation in Cairo, which includes GCSM's World Company Award. An awarding ceremony will occur on Saturday (22).
Egyptians authorities and business leaders at the forum left a good impression on Brazilians when they presented the steps Egypt has taken to ease deals and attract foreign companies and investments. Reducing bureaucracy, modernizing sectors, and streamlining how to start companies are some of the measures Egypt has taken and presented at the event. Brazilians also got to know the size of the market Egypt can encompass through their trade agreements with regions such as Africa and Europe.
One of the speakers talking about Egypt's advancements was Elsewedy Electrometer Group chairman & CEO Emad Elsewedy, who is also president of the Egyptian side of Brazil-Egypt Business Council. Egypt's deputy minister of Investment and International Cooperation and General Authority for Investment and Free Zones (GAFI) vice-president Mohamed Abdel Wahab also talked about the subject. Some of the big projects the Arab country has developed or implemented recently include Suez Canal expansion, the building of a new administrative capital and the creation of a new free zone.
These ongoing works were mentioned in the speech given by Rubens Hannun, when he talked about the potential that Egypt represtents for Brazil in trade and investments thanks to factors such as its great population, the free trade agreement the country has with Mercosur, and the efforts Egypt has made in renovating infrastructure, creating jobs and boosting economy. "The country now shows macroeconomic indicators that catch the eye of any investor," he said.
Hannun pointed out that, in 2018, Egypt was one of the main destinations of Brazilian exports in the Arab world, it is one of the largest buyers of Brazil's halal meat, and large Brazilian companies have subsidiaries there. "We believe that Brazil-Egypt trade partnership should be seen by both governments as strategical. That is why we do everything we can to develop this bilateral relation even more," he said.
He described initiatives held by the Arab Brazilian Chamber to approximate both countries and the Arabs in general, such as the Brazil-Arab Countries Economic Forum in 2018, which received a large Egyptian delegation, and the promotion of Egyptian companies in food trade shows in Brazil. Hannun said that the next edition of Brazil-Arab Countries Economic Forum will be held in April 2020; and that a forum on logistics will be held in Alexandria, Egypt, by the Arab Brazilian Chamber and the Union of Arab Chambers in December.
Arab Brazilian Chamber CEO Tamer Mansour gave a lecture presenting the current point of the economic relations between Brazil and Egypt, as well as the obstacles preventing trade to grow even more. According to him, Brazil's exports to Egypt reached USD 2.1 billion in 2018 and grew almost 50% over the last ten years. Egypt's sales to Brazil grew by 207% over a decade, reaching USD 270 million last year. Brazil's exports to Egypt are mainly beef, ore and corn, while Egyptians sell Brazilians fertilizers, olives and cotton.
Mansour said that the main trade barriers between Brazil and Egypt are the difficult to access markets because of imports permissions, inspection requirements, as well as certification and package requirements. He suggested measures that could help solve some of these difficulties, including establishing bilateral technical committees, creating technical missions, encouraging a dialogue between regulatory and phytosanitary bodies from both countries, and developing an agenda about the topic on a business council.
Other recurring topic in the forum's discussions was energy. It was one of the themes Alckmin addressed. The speeches also talked about the future of Brazil-Egypt relations, the Egyptian role on the African economy, Egypt-Mercosur agreement, the new Brazilian economic geopolitics in the current global moment, and the regional development as a contributing factor for a country's growth. In addition to the lectures, there was a space for talks and networking.
Other lectures and speakers included Axway Latin America CEO Marcelo Ramos, Brazil's ambassador to Cairo, Ruy Amaral, Egypt's Ministry of Commerce and Industry Bilateral Trade Agreements director-general Michael Kaddes, TV Cultura president and Spring Group president José Roberto Maluf, Grupo Articon CEO Reinaldo Papaiordanou, Global Forest Bond CEO Eduardo Marson Ferreira, and Brazilian Airforce Economy, Finances and Administration secretary Marcelo Kanitz Damasceno.
Marcelo Ramos presided over the Brazil-Egypt Economic Forum. "I feel provoked into unraveling the potential of these relations between these two countries, and into discovering this market that still has a lot to offer in terms of learning and of rich cultural and economic experiences," he said.
Other speakers included Demanda CEO and former Regional Administration Council of São Paulo (CRA-SP) VP Silvio Pires de Paula, Robert Wong Consultoria Executiva CEO Robert Wong, the mayor of Barretos, Guilherme Avila, Parlamento Codivar/UVESP (Council of Intermunicipal Development of Ribeira Valley and South Coast/Union of Councilmen of the State of São Paulo) founder Marco Antonio Melhado, and others.
The forum was attended by GCSM president & CEO Agostinho Turbian, GCSM Board of Trustees president José De Podestá, and other representatives with the initiative. Rubens Hannun is the honorary president of WOCA 2019.
Translated by Guilherme Miranda
Informations from ANBA website.