News
Office News
Opportunities
Vai-Vai parades this Saturday in Brazilian carnaval
Parade occurs in Anhembi Sambadrome, with the samba-enredo 'Future Quilombo.' The first sector of the parade will have the theme of the Nubian Dynasty of Egypt.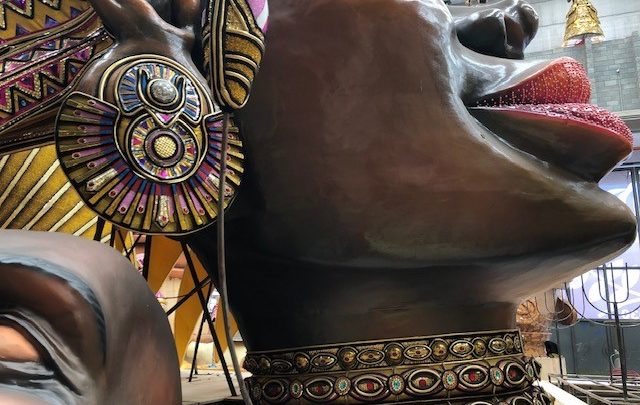 The 15-time champion samba school Vai-Vai parades this Saturday (2) in Anhembi Sambadrome in São Paulo, showing a little of Egypt. Vai-Vai will be the fourth school to parade, with the samba-enredo "Quilombo do Futuro" (Future Quilombo), celebrating afrofuturism and the black origin of the school. It was founded in 1930 in São Paulo, Brazil, in an area where a quilombo had been. The samba-enredo will have the only female singer of São Paulo Carnaval, Grazzi Brasil.
The first sector of the parade brings the theme of the Nubian Dynasty, telling the story of the black pharaohs from Kush, current Sudan, who ruled for around 100 years in the 8th century BC, and their legacy in agriculture, architecture and writing.
The samba-enredo's idea is to show the importance of the black people along human civilization, starting with Egypt. The Horus wing will have a 16-meter-high 80-meter-long car, and more six wings, the community wing, with 100 people, including mestre-sala and porta-bandeira, approximately 80 Bahian women dressed as Kandakes (female warriors dynasty), and other 60 people parading, all dressed in Egypt-inspired costumes.
Some Egyptian gods will be represented in the allegories including Horus (god of the sun), Anubis (god of the dead), Apis (god of agriculture), and Isis (goddess of love and magic), as well as emblematic animals such as the serpent, the dog, the lion and the eagle, in addition to pharaohs, sarcophagus and sphynxes, symbols of the millenary Egyptian culture.
The entire parade will include 3,000 people and five allegoric cars during the 75-minute presentation. According to information from the school, the first car will be composed entirely by black people, half of them African and the other half Brazilians.
The school headquarters received a visit from Egyptian archaeologist Zahi Hawass, the Egypt's ambassador in Brasilia Alaa Roushdy and the comercial consul in São Paulo Mohamed Eljhatib last December. The delegation was received by Vai-Vai president Darly Silva, the directors Renato Candido and Pedro Henrique, composer Marcelo Casa Nossa, and designer Roberto Monteiros.
Translated by Guilherme Miranda
Informations from ANBA.