News
Brazil GDP Slowdown Reveals Urgency of Bolsonaro's Challenge
Brazil's economy slowed sharply in the fourth quarter amid plummeting investments, underscoring the challenges President Jair Bolsonaro faces to kick-start growth.
Gross domestic product expanded 0.1 percent in the fourth quarter, down from a revised 0.5 percent in the three months through September, the national statistics agency said Thursday. The result was the slowest quarterly pace since the third quarter of 2017 and was in line with the median estimate from economists surveyed by Bloomberg. In the full year of 2018, GDP rose 1.1 percent, the same as the prior year.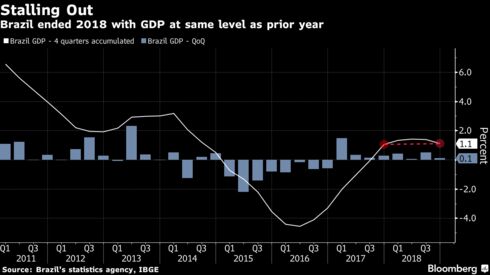 Bolsonaro's pro-business administration swept to power in part due to pledges to propel growth in Latin America's largest economy that's still scarred from a recent recession. Investment-led growth under his administration will depend first and foremost on negotiating passage of a controversial pension reform. Also, consumers are still suffering from double-digit unemployment and stagnant wage growth.
WHAT OUR ECONOMIST SAYS
"This reading should reinforce markets' and our negative bias for growth in 2019, due to the low carry-over effect and the sluggish response of domestic demand to low rates. Should growth remain this sluggish in the first quarter, we could see policy normalization postponed to later in 2020; a rate cut remains unlikely at this point, but could be discussed later in the year, conditional on firm advance on the pension reform."

— Adriana Dupita, Bloomberg Economics
Brazil's key interest rate is already at a record low 6.5 percent and, amid weak activity data, some investors are speculating whether the central bank's new president, Roberto Campos Neto, might cut borrowing costs further to boost activity. Continued slack may allow for easing, according to Alejandro Werner, head of the International Monetary Fund's Western Hemisphere department.
"To the extent that economic data continues to surprise on the downside, there might be some space to move," Werner said on Thursday in an interview in Bloomberg's New York office. "The current rate was set with an expectation that the economy would be growing slightly faster at this time."
Low rates failed to spur investments in the fourth quarter; in fact they fell 2.5 percent from the prior period, marking the worst result since the crushing, two-year recession that ended in 2016. That is, however, less alarming than appears on the surface, as it partially stems from adjustments the statistics agency made to its methodology in the third quarter, according to William Jackson, chief emerging markets economist at Capital Economics.
Still, the GDP result will disappoint those who had hoped growth would immediately accelerate after Bolsonaro's electoral victory, Jackson wrote in a note. Indeed, consumer confidence dropped in February. Family consumption, which accounts for nearly two-thirds of demand, rose 0.4 percent in the quarter.
"The economy all in all is weaker because consumption hasn't been recovering at a pace we thought possible due to a weaker-than-expected labor market," Banco Safra's chief economist Carlos Kawall said by phone. "Most big investment decisions have been postponed. The economy seems to be in a waiting mode."
To read more: Optimism or Wishful Thinking? Brazil's Recovery Has Bit of Both
Today's weak growth number prompted Goldman Sachs and Sul America Investimentos to cut their respective 2019 GDP forecast to 2 percent, from 2.2 percent previously.
"The positive side is that we definitively have emerged from recession, but the path to end the hiatus is still long," said Jason Freitas Vieira, chief economist at Infinity Asset Management. "Unemployment and the challenges of reforms are directly affecting investment decisions and people's confidence."