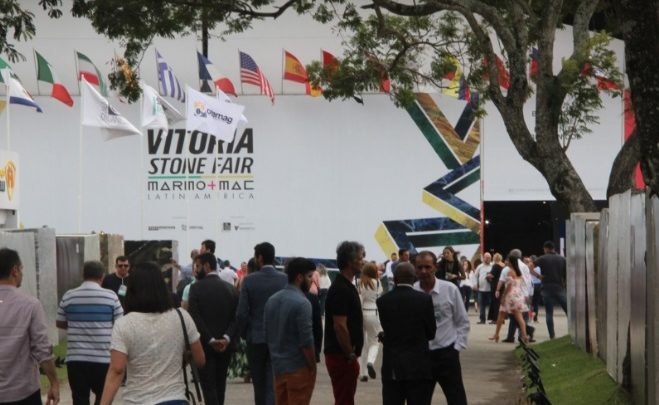 International exhibitors and buyers will flock to marble and granite industry exhibition Vitoria Stone Fair from February 12 to 15 in the capital of Espírito Santo.
In a bid to foster the marble and granite industry, Vitoria Stone Fair – Marmomac Latin America will welcome Brazilian and international exhibitors and buyers from February 12 to 15 in Espírito Santo state capital Vitória. The expo's 47th edition will feature 300 exhibitors from Brazil and countries including China, South Korea, Spain, India, Portugal and Russia.
Exhibitors will include the Embassy of Egypt in Brazil. The intention is to showcase the quality of Egyptian goods to fairgoers. The Embassy also intends to publicize the Egypt-Mercosur Free Trade Agreement, in effect since 2017, and its relevance.
The expo's organizers are expecting marble and granite buyers from over 46 countries and 15,000 visitors to attend. A delegate from the Arab Brazilian Chamber of Commerce will also be at the event to provide support to member companies. According to the organizers of Vitoria Stone Fair, advertisement of Brazilian natural stones is increasing in Arab countries.
Brazilian dimension stone exports grossed USD 698.61 million from January to September 2018, according to the Brazilian Dimension Stone Industry Association (Abirochas).
Espírito Santo was the state of Brazil that led dimension stone production and exports during that time, at USD 551.9 million. The United States are currently the leading importer.
Quick facts
Vitoria Stone Fair – Marmomac Latin America 2019
February 12-15, 2019
1pm – 8pm
Parque de Exposição Floriano Varejão – Pavilhão de Carapina – Vitória, Espírito Santo
Contact details: +55 (27) 3434-0600 / 0604 / info@vitoriastonefair.com.br / www.vitoriastonefair.com.br