Office News
Items from Egypt on permanent display in Porto Velho
Egypt's Commercial Office in São Paulo launched its third showroom in the capital of the state of Rondônia, Brazil.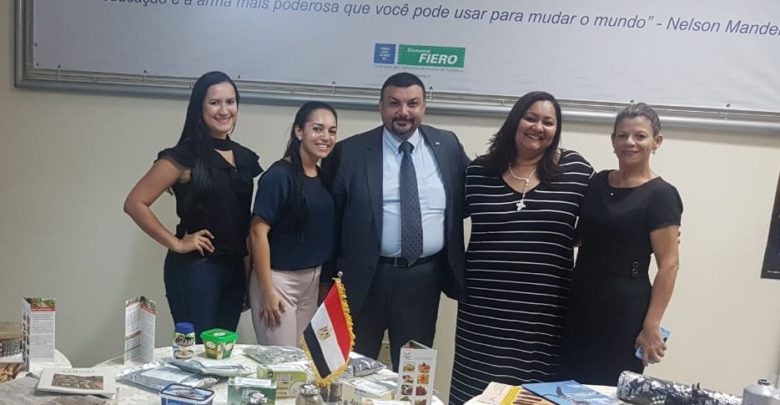 Egypt's Commercial Office in São Paulo launched its third permanent showroom of Egyptian-made goods, this time in Porto Velho, Rondônia. Commercial consul to São Paulo Mohamed Elkhatib travelled to the northern Brazilian state and delivered a lecture on the Egypt-Mercosur free trade agreement, and on how Brazilian companies can benefit from it.
Elkhatib kicked off activities at the showroom in the Federation of Industries of the State of Rondônia, featuring samples and products from 20 Egyptian companies. Products include handicraft, plastics and stationery, LED lights, plant-based drinks, carpets, clothing, plastic table covers, herbs and spices, tobacco and hookah essences, cotton, yarn, textiles, synthetic yarn, cotton underwear, halva, tagine, shaving razors and electric shavers, and medical equipment. Pictured above is Elkhatib (center) at the Federation of Industries.
The first permanent display of Egyptian goods opened last January at the Space Samples showroom in Campinas (SP). At one point, items from 65 companies were on display there. The second one opened August 1 at the Mercosur and Latin America Chamber of Commerce, in Bragança Paulista (SP), featuring items by 25 companies.
Egypt's Commercial Office is getting ready to launch the fourth permanent showcase at its São Paulo headquarters, with goods from 40 different enterprises.