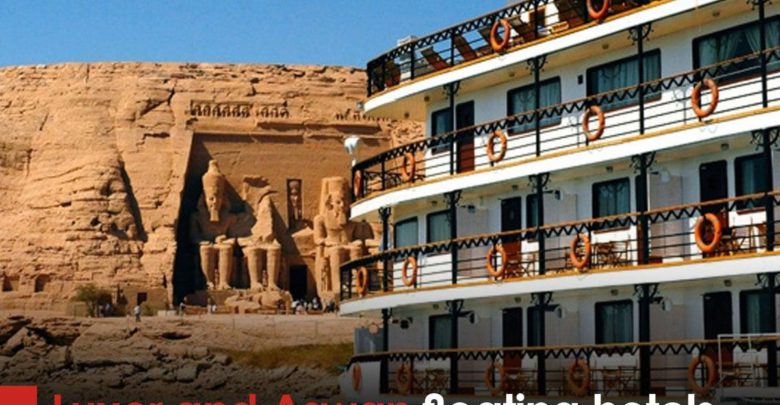 Another important division of tourism in Egypt is preparing to reopen at the beginning of October, as the floating hotels between Luxor and Aswan will return to sail on the Nile River, carrying tourists to and from the sites and cities scattered along the river. 
According to a report by Youm7, the decision to open the hotels came from the country's tourism authorities, in an attempt to resume cultural tourism in Egypt amid tight precautionary measures against COVID-19.
Tourism kicked off in Luxor and Aswan on September 1, after a seven-month hiatus in response to the virus. 
During the suspension, Upper Egypt suffered a major financial loss, as Tharwat al-Agamy, Chairman of the Luxor Chamber of Tourism, confirmed that all sectors related to tourism were affected, from horse carriage drivers to hotel owners.
The chairman stressed that resuming tourism at this crucial time before the beginning of winter gives hope to everyone.
Agamy told Youm7 that tourism has already begun to recover, with Luxor and Aswan receiving tourists from Cairo and Hurghada by ground transportation, as charter flights have not yet resumed. 
Agamy pointed out that there are 27 hotels between Luxor and Aswan that have obtained the required health safety certificate for reopening, as well as 13 restaurants in Luxor that are ready to receive tourists in accordance with the new precautionary guidelines. 
The floating hotels have begun executing the protocol and policy changes that will allow them to obtain certification to reopen at the beginning of next month, as confirmed by Egypt's Ministry of Tourism and Antiquities.
Upon certification, the hotels will be able to operate at 50 percent capacity. 
Luxor and Aswan have 130 floating hotels, he said, 30 to 50 of which are expected to resume business initially, given that the return of tourism is anticipated to be gradual. 
Following the announcement, Egypt's numerous tour agencies began coordinating trips, Agamy said, pointing out high demand from many countries, including Japan and Spain.
Tourism investors have offered the Minister of Tourism and Antiquities, Khaled al-Anani, a number of ideas to revitalize the industry after operations resumed in early September, Agamy mentioned.
Some of the proposals included administering a PCR analysis for tourists upon arrival at Luxor and Aswan airports.
The test is currently available for those flying into Sharm el-Sheikh and Hurghada airports, and its availability is expected to contribute to an increase in tourism within the two governorates, he added.
The Luxor and Aswan governorates petitioned for an extension to the "Spend Summer in Upper Egypt" initiative, which was launched by the ministry to encourage tourism in Upper Egypt by offering 50 a percent discount on full ticket prices for foreign visitors at museums and archaeological sites.
They have requested extending the initiative to December.
The governorates also called for a reduction in domestic airfare to Luxor and Aswan, another measure they believe will help stimulate tourism in the region.
Anani promised to consider all requests and proposals, stressing that the state will spare no effort to promote the tourism sector.
The Ministry of Tourism and Antiquities confirmed an increase in the coming months of inspection campaigns on hotels and archaeological sites, in order to ensure that places are adhering to the government's precautionary measures and safety controls.