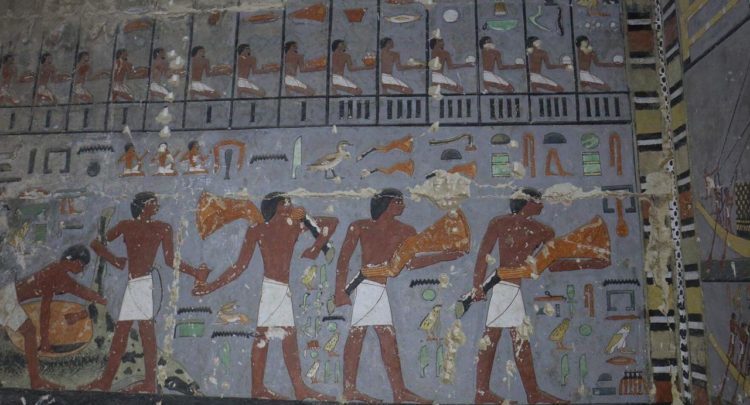 Egyptian Archaeological Mission under Dr. Mohamed Megahed on Tuesday announced a new discovery in southern Sakkara in Giza governorate.
Dr. Megahed confirmed that the discovery is an update to show the importance of the period of King Jadkar and the end of 5th Dynasty generally. The mission also succeeded during the last excavations season to reveal the king's wife name for the 1st time- Queen St Ib Hoor. A carved pillar of granite was found on the southern side of her temple.
"The new discovery, a unique tomb, dates back to the fifth dynasty and belongs to one of the noble class close to the king in the late period of the fifth dynasty," said Secretary General of the Supreme Council for Antiquities Mostafa Waziri in press statements.
The mission also revealed a second unbroken chamber, which was used as a burial chamber and contained the remains of a completely destroyed white limestone coffin.
It discovered the remains of "Adam Khawi" among the stones, which was found on the remnants of oils used by the ancient Egyptian in the embalming.
Meanwhile, the mission completed the architectural restoration of King Jedekar's pyramid inside, as it has not undergone any restoration work before.
The archaeologists will complete the restoration and archaeological registration of King Jadkare's hierarchical collection to discover more information about the end of the 5th Dynasty and the beginning of the Sixth Dynasty. The 6th Dynasty witnessed a radical shift in the ancient Egyptian life through the Pyramids texts appeared for the first time in King Onas's pyramid.