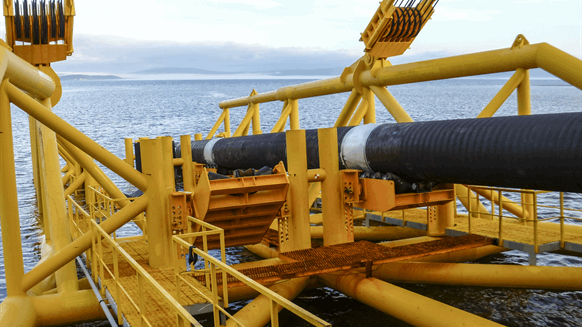 Saipem and Petrobel have negotiated an offshore contract addendum for the 'Ramp Up to Plateau' phase of the Zohr gas field.
Saipem S.p.A. and Petrobel have negotiated an offshore contract addendum worth more than $1.2 billion tied to the "Ramp Up to Plateau" phase of the supergiant Zohr gas field offshore Egypt, Saipem reported Thursday.
"This further award of works on the Zohr development represents a new recognition of our proven capacity to embrace our client's objectives at the early stages of cooperation and bring them to a conclusion," Saipem CEO Stefano Cao said in a written statement regarding the letter of intent for the award of a new engineering and construction (E&C) work order. "The innovative assets and technologies already used in the previous phases, and the ability to build solid local partnerships, will also ensure the success of this latest phase."
According to Saipem, the current addendum to the E&C work includes installation of:
A second 30-inch diameter natural gas export pipeline          Infield clad linesUmbilicals and electrical fiber/optic cable
Also, Saipem stated that the addendum calls for engineering, procurement, construction and installation work for 10 wells in up to 1,700 meters of water. The company also reported that it will deploy the following vessels during the Ramp Up to Plateau phase, which is set to begin in January 2019:
The Castarone ultra-deep water pipelayerThe FDS subsea field development shipThe S7000 heavy lift vesselThe Normand Maximus DP3 subsea construction vesselThe Saipem 3000 subsea construction vesselThe Castoro Sei pipelay vesselThe Normand Cutter and Far Samson multipurpose vessels
Petrobel, a 50-50 joint venture (JV) of Egyptian General Petroleum Corp. (EGPC) and the Eni S.p.A. subsidiary IEOC is developing Zohr on behalf of PetroShorouk, Saipem noted. Egyptian Natural Gas Holding Co. (EGAS), IEOC, Rosneft, BP and Mubadala make up the PetroShorouk JV, the company added.
On its website, Eni states that Zohr is the largest gas discovery ever made in the Mediterranean Sea. In September of this year, the company reported that Zohr was producing 2 billion cubic feet of gas per day.