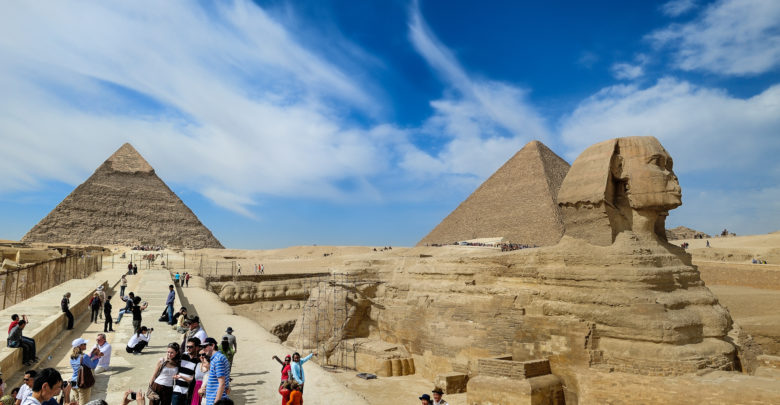 Egypt's Minister of Antiquities and Toursim Khaled al-Anani has unveiled a plan to renovate the area surrounding the Great Pyramids of Giza, which would include building the first café and restaurant to serve tourists at the location, according to official statements issued by the Minister on Tuesday, February 4.
Anani said that the area was lacking even basic shops for bottles of water, adding that the development project will be allow Egyptian companies to provide various services in the area — major step in the history of the tourist destination.
Part of ongoing efforts to encourage more visitors to the Great Pyramids and boost tourism in the country more broadly, the restaurant will allow visitors to have lunch while gazing out at what is arguably Egypt's most remarkable site, Anani said.
The Minister added that the plan will take place under the supervision of the Supreme Council of Antiquities, in order to "show full appreciation" for the archeological value of the area.
The project to revamp the area surrounding the Pyramids was first unveiled when Orascom investment signed an agreement in 2018 with the Supreme Council of Antiquities to launch a platform for offering different services at the site.
The agreement gives the Supreme Council the sole right to administer facilities in the area, according to a previous official statement.
Egypt has also worked to improve roads leading to the much anticipated Grand Egyptian Museum (GEM), which is located nearby the Giza Pyramids and is set to open its doors to the public this year. In light of official estimates of five million visitors to the GEM annually, Fayoum road is set to be expanded to four times its current size to fit the capacity for cars heading to the new mega museum and the Great Pyramids of Giza.