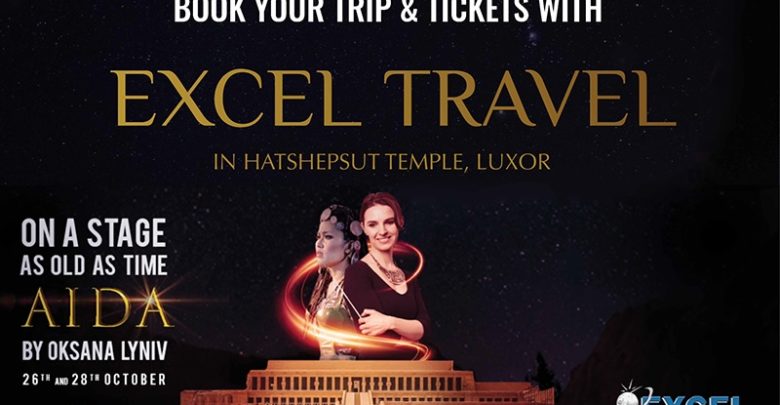 The famous Opera Aida originally set in the Old Kingdom of Egypt and composed by Giuseppe Verdi, is coming back to Luxor with a spectacular performance at Hatshepsut Temple on 26 & 28 October 2019.
The opera première goes back to the Year 1871; as the performance conducted by Giovanni Bottesini, took place in The Cairo Khedivial Opera House. Today the work holds a central place in the operatic canon, receiving performances every year around the world.
The stunning Temple of Queen Hatshepsut, is a perfect place to live the era of Aida and feel the original ambience of the inauguration performance.
Aida is an eternal story, set in ancient Egypt, portraying love and betrayal against the backdrop of war. The Ethiopian Princess, Aida, was held captive in Egypt; she fell in love with the Egyptian military commander General Radames, Captain of the Guard, who was chosen to lead a war with Ethiopia. Aida was torn between her love for Radames and for her country. The story is a roller coaster of emotions told through Verdi's powerful music.
The Performance

The performance will be conducted by Oksana Lyniv, one of the world's great female conductors and the first to hold the name " director of the Graz Opera" in Austria; besides, she conducted many performances in Europe including the Bavarian State Opera and Barcelona's Gran Teatre del Liceu.
The director is Micheal Sturm, who is noted for his unique contemporary staging's of classical and contemporary operas and plays.
The main roles will be played by soprano Sae-Kyung Rim as Aida; she studied singing at the Giuseppe Verdi Conservatory in Milan and at the Teatro alla Scala Academy with Leyla Gencer.
Radames will be played by Mickeal Spadaccini, a Belgian superlative tenor, who won the Prize of Nicolai Ghiaurov (2006), 1st Prize at the opera competition at Théâtre de Spa (2007).
The Venue

In Luxor, the "world's greatest open-air museum", lies the stunning Temple of Queen Hatshepsut in the west bank; built into a cliff face that rises sharply above it. It is greatly considered to be one of the "incomparable monuments of ancient Egypt".
The temple was designed to serve for the posthumous worship of Queen Hatshepsut and to honor the glory of Amun.
For booking please email us @
Tourism@Excel.Travel
www.excel.travel