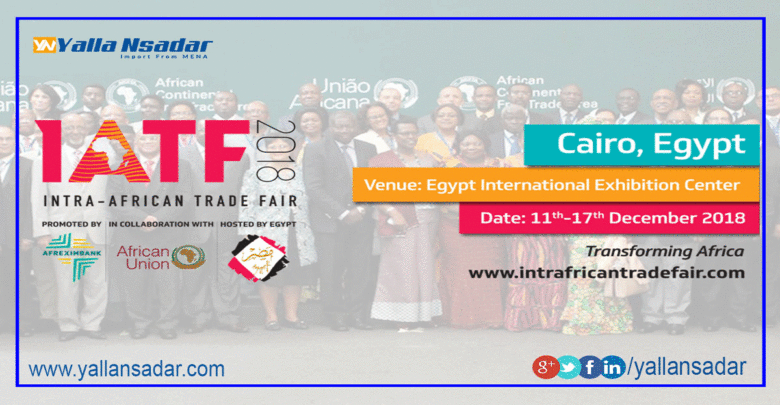 The Rationale for the Trade Fair
Analysis by the African Export- Import Bank (Afreximbank) shows that one of the main reasons why intra-African trade is low at around 15% compared to Europe (59%), Asia (51%), and North America (37%) is because of lack of access to trade and market information. To address this challenge, Afreximbank decided to, among other initiatives, convene the Intra-African Trade Fair every two years to provide trade and market information and connect buyers and sellers from across the continent.
What IATF 2018 has to offer?
The Intra-African Trade Fair is the first of its kind in Africa, consisting of a 7-day trade show that provides a platform for sharing trade, investment and market information and enabling buyers and sellers, investors and countries to meet, discuss and conclude business deals. It provides an opportunity for exhibitors to showcase their goods and services, engage in Business to Business (B2B) exchanges and conclude business deals.
IATF provides a platform for entry into a single market of over one billion people joined together under the African Continental Free Trade Area.
Primary Objectives of the Intra-African Trade Fair
To bring together continental and global players to showcase and exhibit their goods and services, and to explore business and investment opportunities in Africa
To serve as a marketplace where buyers and sellers of goods and services meet and explore business opportunities
To provide a platform for B2B exchanges and development of business opportunities
To share trade, investment and market information with stakeholders including investors, SMEs, the informal sector, Africans in Diaspora, and to identify solutions to address the challenges affecting intra-African trade
For Afreximbank and other financial institutions, to share information about their trade finance and trade facilitation interventions that will support intra-African trade
To discuss topical issues affecting intra-African trade and provide practical and effective solutions
To deploy multi-country and multi-company pavilions that will serve as one-stop shop for intra-African trade and investment opportunities in Africa
What is Intra-African Trade?
Afreximbank defines intra-African Trade as the trade in goods and services between or among African countries and the flow of goods and services between Africa and Africans in the Diaspora. The scope of intra-African Trade has also been broadened to include informal cross border trade to enable the Bank to design special products and dedicate resources to formalize this trade.
Afreximbank Strategy to promote Intra-African Trade
The Trade Fair is informed by Afreximbank's strategy for the promotion of Intra-African Trade. The strategy can be summarized under three key pillars: Create, Connect and Deliver
Create: This pillar supports the production of goods and services with a view to enhancing engagement in regional trade. It seeks to build capacity for the expansion of production and processing capabilities, with a focus on agricultural production, agro-processing, manufacturing and services.
Connect: Afrexim seeks to provide traders with links to various markets on the continent. The Bank aims to identify institutions and agents that are able to facilitate the connection of demand and supply across markets. This pillar is central to the trade fair, which is aimed at bringing relevant entities together and facilitating business growth and opportunities.
Deliver:  Here the focus is on facilitating the provision of efficient and cost-effective distribution channels within the continent. This includes the creation of transport logistics, storage and service payment systems, and buyer-financing arrangements which will help to accelerate the flow of goods and services to buyers, thereby creating a market.
The Trade Fair will contribute towards the bank's objective to increase intra-African trade from USD170 billion in 2014 to USD 250 billion and by so doing, ensure that intra-African trade share of Africa's total trade reaches 22% by 2021. "Conservatively, intra-Africa trade is a USD 6 trillion opportunity for Africa in the short term and USD 12 trillion in the long term" (Amy Jadesimi: Forbes, May 23 2017). Afreximbank will use the Trade Fair as well as other interventions to assist the continent to realise its trade potential and achieve positive transformation for Africa.