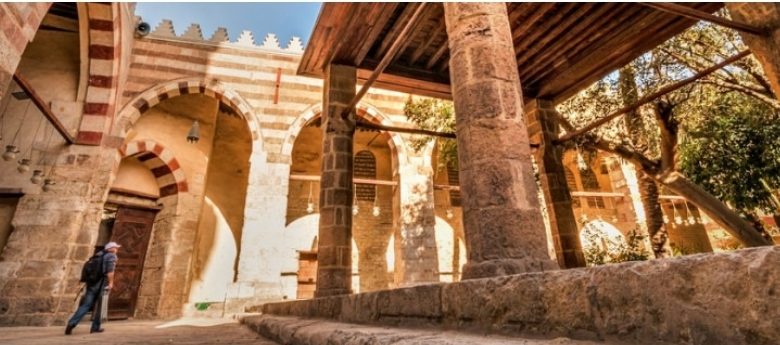 Cairo is home to loads of beautiful mosques, some dating back hundreds of years. Among those meticulously crafted mosques is one in Bab El-Wazir Street in Al-Darb Al-Ahmar, named after Ibrahim Agha Mostahfazan; it is otherwise known as Al-Gamea' Al-Azraq (The Blue Mosque). Some of its other names are Ibrahim Agha Mosque and as Aq Sonqor Mosque.
It takes the name, Blue Mosque, due to its beautiful Qashani walls, which is a form of geometrical decorative art of Persian origin. These blue figures were first popular in Iran, and moved to Turkey with the Ottomans before finding their way to Egypt. All the walls in the Qibla direction are adorned with this beautifully decorated art.
The Blue Mosque was established between 1346 and 1347, or 747 to 748 in Hijri years. It was named Ibrahim Agha Mostahfazan, after one of the most famous Turkish princes during the rule of the Ottoman Empire in Egypt.
The mosque is 80 metres wide and a 100 metres long, with an open area in the middle branching to four hallways, with the biggest one holding the prayer Qibla. The mosque also has three entry doors; on the eastern, western, and northern sides of the building.
If you're in the area and are looking to wonder at a beautifully crafted mosque, one that you've probably never seen before, you will surely enjoy the visit.