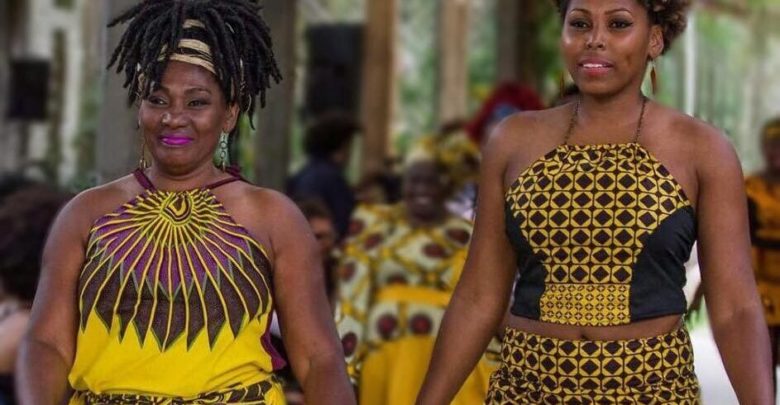 São Paulo – "We, women of today, we're still Kandakes," explained Ana Cristina Neves, the matriarch of the São Paulo family that created the brand Candaces Moda Afro (picture above). The name was chosen after they did a research and found out about the matriarchal kingdom that ruled an African region south of Egypt, in present-day Sudan. "We drew a parallel with our family and work. We are the modern queens," said Sandra das Neves Souza, daughter of Ana Cristina and one of the women that produce the pieces.
The brand was founded in 2013 and, from the beginning, the pieces were being made by the sisters Sandra, Samara and Daniela, and their mother, Ana Cristina. "The fashion design comes pretty much from my mother. She used to sell purses and I decided to join her, selling earrings. But, in the street market in which we used to sell them, people would be more interested in the clothes we were wearing," reveals Sandra.
Importing African fabrics, they began a small-scale production of 20 pieces per week, which has now reached 70 pieces. "It's really a form of resistance. We have somewhat more painful life stories. From the difficulties as a black woman, from the northeast, semiliterate. I have never taken a fashion design course and I have been able to make a living with my job," concluded Ana Cristina.
The colorful fabrics, with ethnic prints, continue to impress clients and producers. In São Paulo, they have attended the Black Fair and the Creators Fashion Show: Afro-Latin women, with the latter resulting in a fashion show held in the streets near SESC 24 de Maio, downtown São Paulo. "We were part of a collective work, with other four houses. The cool thing is that there were women from all styles, black, fat, not necessarily models, walking the runway," said Sandra.
The brand began with the work of family members and continues to be produced at home. But the fabrics come from afar. They're African and the main supplier is in Angola, sending around 80 pieces per month. They have now hired another woman for sewing, which makes it possible to increase the output.
The entrepreneurs still don't have a brick-and-mortar outlet in São Paulo, selling and promoting their creations through social media. "We have this goal, but we have not found a space yet due to high costs. What we're doing is taking the brand to Salvador, Bahia, in a collective space," celebrates Sandra, who is getting ready to give a workshop in SESC Santo André, São Paulo metro area, in November and December, and to continue to carry forward the fashion design inspired by the Kandakes, the queens.
 Contact:
www.instagram.com/candacesmodaafro
www.facebook.com/candacesmodaafro
By Thaís Sousa – ANBA
tsousa@anba.com.br
Translated by Sérgio Kakitani