News
Opportunities
Egyptian olive oil, pickle company seeks a market in Brazil
Quality Standard LTD joined the Anufood Brazil expo in a bid to get into South America. It already sells its product to 23 countries.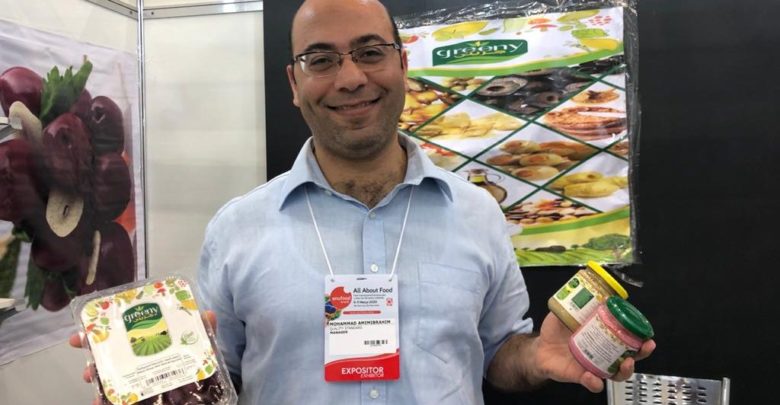 Egypt's olive, olive oil and pickle company Quality Standard LTD is in Brazil for the first time with its Greeny brand to join Anufood, the food and beverage industry show that ran from Monday (9) to this Wednesday (11) at São Paulo Expo, in São Paulo.
In an interview with ANBA, export manager Mohammad Amin (pictured) said the export-oriented company was established in 2003. About 95% of total output gets shipped to 23 countries across Europe, Asia, the Gulf and North Africa. Quality Standard LTD is yet to sell to South America.
"That's why we joined Anufood. Trade shows are our main resource for breaking into new markets. We have been going to the premier exhibitions for about ten years now: Anuga (Germany), Sial Paris (France) and Gulfood (UAE). The fact that Anufood Brazil carries the Koelnmesse label [the organizer of Anuga] gave us the confidence we needed to join in. We're looking to export to Brazil and to all of South America," said Amin.
Items on offer from Greeny include olive oil, olives, pickled cucumbers, onions, artichokes, bell peppers, mixed vegetables and spreads including tapenade, pesto, and an artichoke, beets and tahini mix – the most unique product available.
"Quality is part of our company's name and it's our biggest concern. We have a bevy of certifications, including ISO 2000, Halal and Kosher. We also have standout products, such as special tapenades, grilled vegetables, an Italian pickle recipe and an Eastern pesto made from herbs and garlic," said Amin.
The manager said the company's goal is to be the biggest exporter in its industry in Egypt. "We want to export to the entire world. We don't have a specific plan for Brazil, but we want to be in this market. This is important for us. We have quality product and good prices," he concluded.
Anufood

One of the hundreds of food and beverage exhibitors at Anufood was Brazilian exotic fruit company Bello Papaya. Chairman Ulisses Brambini told ANBA about the brand's Coco Nude product – shell-less green coconut wrapped in plastic, which is lighter and easier to ship and export. The product is 100% natural, preservative-free, and comes with a biodegradable straw.
Bello Papaya owns 14 farms in northern Espírito Santo, Minas Gerais and Bahia. Distribution is made out of Bahia to several Brazilian states. Some 35% of output – including papaya, melon, tangerine, lime and orange – gets shipped abroad.
The company first began selling Coco Nude in South and Southeast states. In São Paulo, the product is available from emporiums. "This is still a new product. It's been on the market for eight months now. We are working with Embrapa to find a plastic-free solution; this is our challenge. We want Coco Nude to be as sustainable as possible. The coconut shells, we put them back on the ground," said Brambini. Embrapa is the Brazilian Agricultural Research Corporation. Bello Papaya exports fruit to Canada, the United States, Europe and Russia.
Arab Brazilian Chamber
The Arab Brazilian Chamber of Commerce had its own stand at Anufood Brazil. Its commercial manager Daniella Leite discussed the Chamber's second year at the expo. "This second year at the fair shows that Anufood is truly becoming established in Brazil. The food and beverage industry is very relevant to the Arab Chamber. It's the primary industry in our trade and exports. Therefore, it's a good thing for us to be here, so we can showcase available opportunities and connect companies and people," she said.
"Despite the problems we are facing with foreigners and people coming in due to coronavirus, a lot of people showed up at our stand and we were able to be with several companies interested in starting or doing more business with the Arab countries, as well as Arabs interested in selling to Brazil. Compared with 2019, we saw demand go up by over 180%. This encourages us to keep going with training, consulting and networking actions, in a constant drive to spur new deals between our 23 countries," she concluded, in a reference to Brazil and the 22 Arab countries.
Quick facts
Quality Standard LTD
+2 0102 225 2739
mohammad.amin@multitradegrp.com
www.qualitystandard-co.com
Bello Papaya
+55 73 3605 4850
ulisses@bellopapaya.com.br
www.bellopapaya.com.br
Informations from ANBA website.