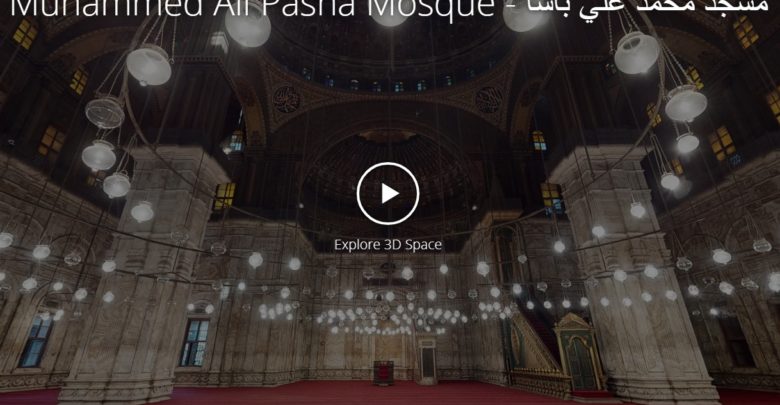 History:
The mosque was established by Muhammad Ali Pasha, who was born in the city of Kavala in 1183 AH/ 1769 AD. He arrived in Egypt in 1215 AH/ 1801 AD, as part of the unit sent by the Ottoman sultan to expel the French from the country, with the aid of the British. The assumed the Egyptian throne in 1219 AH/ 1809 AD, through popular support. He died of a fatal illness on the 13th of Ramadan, 1265 AD/ August 2nd, 1849 AD, at the ripe age of 81. In accordance to his will, he was buried in his mosque.
History of the mosque's establishment:
Muhammad Ali Pasha put the Turkish architect, Yusuf Bushnaq, in charge of designing the mosque. His choice fell on the mosque of Sultan Ahmad in Astana (Nur-Sultan), from which he derived inspiration for the courtyard and the mosaic. The building project officially began in 1246 AH/ 1830 AD, and construction continued until Muhammad Ali's death in 1265 AH/ 1848 AD. By then, the mosque was fully complete, with its walls, domes, two minerats and its marble panelling. Only the lower portion of the façade and the south-west entrance, however, was complete. Abbas Pasha finished the mosque when he ascended the throne in 1264 AH/ 1848 AD. He added the decoration and some of the marble work, added a copper maqsura (separation screen), and renewed the inscriptions. Ismail Pasha took over the work in 1280 AH/1863 AD, renewing the gates and installing copper knockers. He gifted the mosque two gold-coated copies of the Qur'an, written by the hand of Ibrahim Afandi Rushdi. He added another maqsura so that Sultan Abd al-Aziz could pray behind it when he came to Egypt and attended the communal prayers. The maqsura was surrounded by walls and equipped with its own water fountain. Tawfik Pasha restored the courtyard in 1269 AH/ 1879 AD and fixed the led domes. He also made a gift of gold-coated Qur'ans. King Fou'ad looked after the mosque, and at the news of the mosque's deterioration, created an assembly to oversee the removal and reconstruction of the largest dome and the smaller ones surrounding it.
Architectural planning:
The mosque is divided into two sections. One is known as the covered section (the prayer area), and the other is the haram.
First:
Covered section (prayer area)
Second:
Haram
The mosque contains two Ottoman minerats.
This virtual Tour is made in cooperation between the Ministry of Tourism & Antiquities and NAV3D