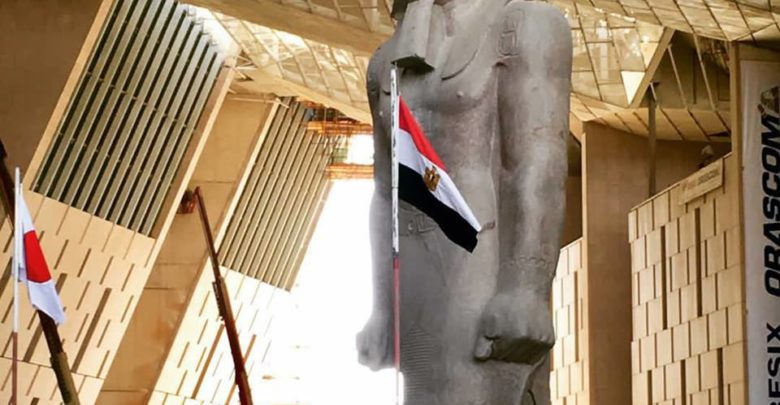 The Grand Egyptian Museum currently under construction in Giza, Greater Cairo, welcomed with a large pyramid-shaped entrance as this reporter walked into on Sunday morning. It almost felt like being drawn into the pyramid. As the ceiling and walls were made of glass, the interior of the museum was full of sunlight and brightness.
The construction of what would be the largest archaeological museum in the world, which boasts valuable ancient artifacts including Tutankhamun's famous gold mask, is nearing its end. According to Egypt's Ministry of Antiquities, the construction is almost 90 percent completed and will be concluded next year. The work was originally planned to start in 2002 to be completed by 2009, but had to be delayed due to difficulties in securing funds amounting to 1 billion dollars as well as political circumstances, which had grown unstable since the Arab Spring in 2011. Yet, an official from the Antiquities Ministry repeatedly stressed to this reporter that there would be no more delays to the construction schedule.
What was waiting for visitors passing through the main entrance was the stone statue of Ramesses II. Ramesses the Great was the most powerful pharaoh of the 19th Dynasty in the 13th century B.C., reigning for over 60 years. The giant statue, 12 meters in height and 80 tons in weight, exuded an oppressive feeling.
In the museum, visitors were taken to walk up a gentle slope to look around displayed artifacts. There were 65-meter-long stairs at the center of the building, and 87 relics will be also displayed in chronological order on top of the stairs. When this reporter reached the end of the stairs, the three largest pyramids came into view through the glass wall, including the Great Pyramid of Khufu. Visitors can look at the pyramids themselves as they are located only two kilometers away from the museum.
Since 2016, the Ministry of Antiquities has moved some 46,000 artifacts previous owned by the Museum of Egyptian Antiquities in Cairo to the Grand Egyptian Museum. Around 60,000 additional pieces should be also transferred prior to the opening of the museum. Built in 1902, the Egyptian Museum building was too old and small to provide visitors with a proper view of ancient relics. Over 5,000 pieces related to Tutankhamun were excavated in 1922, but most of them had to be left in the warehouse. Moreover, lack of air-conditioning facilities and rest areas even made visitors to sit on pieces to take a rest. The Antiquities Ministry is planning to set up an exhibition room dedicated to Tutankhamun in the 7,000-square-meter-wide area to display his bed and collection.