Economy
Investment
News
Opportunities
Trade
Tereza Cristina welcomed at Arab League
Brazil's minister of Agriculture talked to the League secretary-general about continuing and reinforcing Brazil's relations to the Arab countries.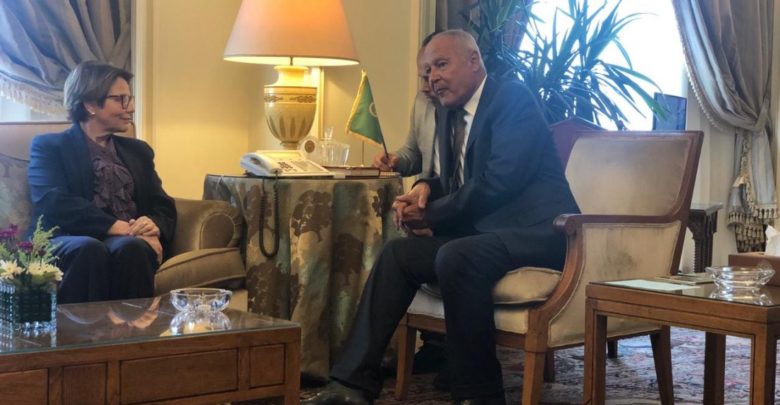 Cairo – Arab League secretary-general Ahmed Aboul Gheit welcomed Brazil's minister of Agriculture, Livestock and Supply, Tereza Cristina, in Cairo last Sunday (15), and one of the topics discussed was Brazil's relationship with the Arab countries. "I've always liked how Brazil stood in favor of Arab issues," Gheit told the minister. The meeting with the secretary-general is part of the schedule of Tereza Cristina's visit to Egypt with a corporate delegation.
The tone of the conversation was very friendly, and the minister talked about her willingness to follow on and strengthen Brazil's relationship with the Arab countries. "We'll boost our relations," Tereza Cristina told Gheit, pointing out that president Jair Bolsonaro will also travel to the Arab countries in October. He's slated to visit the United Arab Emirates, Saudi Arabia, and Qatar.
The minister received the Union of Arab Chambers secretary-general Khaled Hanafy earlier this year in Brazil. The Union is the commercial branch of the Arab League, and Hanafy accompanied the meeting between Gheit and Tereza Cristina. "He could feel all the goodwill and respect we have for the Arab countries," said the minister on her meeting with Hanafy.
Congressman Alceu Moreira (MDB), Parliamentary Front of Agriculture president, was also there. "We in Brazilian congress feel the utmost respect for the Arab countries," said congressman. The Brazilian delegation to the League also featured Arab Brazilian Chamber Rubens Hannun, Brazil's ambassador to Cairo, Ruy Amaral, and Foreign Trade and Relations secretary Orlando Leite Ribeiro.
By the end of the meeting, the minister gave Gheit a Brazilian soccer jersey. He was also invited by Hannun to participate in the Brazil-Arab countries Economic Forum to run on April 14, 2020 in São Paulo, held by the Arab Brazilian Chamber. The last edition of the forum in 2018 received a big Egyptian delegation. The meeting was also attended by other people at the Arab League, including its assistant secretary-general Hossam Zaki, who's  a former Egyptian ambassador to Brazil.
The minister was also welcomed by Egypt's minister of Agriculture, Ezz el-Din abu Steit, and announced to him that Brazil's market is open for garlic, grapes and oranges from Egypt. The Arab country sells mainly manufactured products to Brazil and wants to increase its agricultural items exports too, including those items.