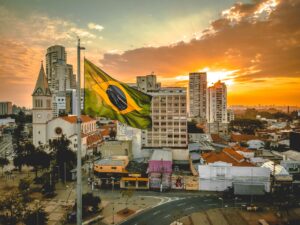 The Egyptian Commercial Office of the Embassy of Egypt in São Paulo in colaboration with the Egyptian Council of Agricultural Products and the Brazilian Embassy in Cairo organized a webinar with the Egyptian exporters of fresh fruits and vegetables, processed food products, about the opportunity available for these products to access the Brazilian Market.
The Commercial Consul, Nashwa Bakr, the Head of Economic and Commercial Sector of the Egyptian Embassy made a presentation about the opportunities ofr some importante products to access the Brazilian Market mainly, citrus, garlic, onion, dates, grapes, herbs and spices, and olives.
According to Mrs. Bakr, the Egyptian products from fresh products and spices maunted $9.44 million in 2019, and raised to $14.8 million in 2020 with 57.4%.
Among the most importante products also is garlic. Egypt was among the TOP 5 exporters in 2019/2020 following China, Argentina, Spain and Chile, the garlic exports from Egypt in 2020 reached around $6.6 million, table olives had the lian Market share in Egyptian exports of food product to Brazil with a value of $29 million, and Egypt to be the 2nd largest exporter of olives trawling Argentina with a value of 48 million.
The Consul assured during the meeting, that she is targeting the big chairs for supermarkets during her short term work action plan, i.e. Pão de Açúcar, Dia, Extra and Carrefour