News
Tourism
Egyptian Museum opens in Rio Grande do Sul
Egyptian artist and businessman Essam Elbattal established in Canela, Serra Gaúcha, a museum with a pharaonic setting of Ancient Egypt. Venue features an internal pyramid with sarcophagus and hieroglyphs. Visitors may dress up in tunics, wigs and turbans.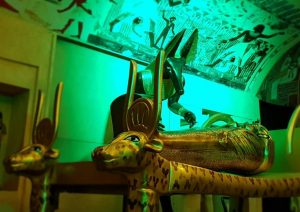 Tourists passing through Canela, in the Serra Gaúcha, will be able to immerse themselves in the ancient Egyptian civilization at the Egyptian Museum that opened last week in the town. Canela neighbors Gramado, and both are important tourist resorts that draw 6.5 million visitors each year.
Canela's Egyptian Museum comprises a 3,000-square-meter plot and over 1,200 square meters of building area, with sculptures, busts, pieces, and mortuary chambers that refer to the history of the great pharaohs, queens and figures of Ancient Egypt, including Tutankhamun, Ramesses II, Akhenaton, Cleopatra e Nefertiti.
One of the highlights of the museum is a pyramid with a mortuary chamber inside, which is set like old Egyptian tombs, with walls and ceilings decorated with images and hieroglyphs, mummies, sarcophagus, sculptures, and a collection of pieces on Tutankhamun, one of Ancient Egypt's most revered pharaohs.
The museum's façade is similar to Ancient Egypt's temples and all exhibited pieces there are copies of originals. Canela's Egyptian Museum is an initiative of the Egyptian plastic artist and entrepreneur Essam Elbattal, who believes that the original pieces must remain in their home country, Egypt.
The museum started being built 20 months ago. It was officially opened last Friday (8) but has already been open for visitors for 50 days. Elabattal says that, due to the profile of Serra tourists, who are mainly Brazilians, Argentines, Uruguayans, Paraguayans and Chileans, the museum offers guided visits in both Spanish and Portuguese.
The Egyptian Museum was an old project by Essam Elbattal. Born in the city of Sharkia, the plastic artist and businessman got a degree in Plastic Artists from the University of Cairo and another in Economy from the University of Zakzek. He started working with Egyptian art in the 1980s in his home country and came to Brazil in the 1990s to hold an exhibition at a mall.
Elbattal decided to stay and since then has traveled all over Brazil with itinerant exhibitions on Ancient Egypt. He even established a stationary museum in the early 2000s but closed it because the location was not ideal. The collection created for the itinerant shows served as basis for the museum in Canela.
The museum's goal is reproducing a pharaonic setting with a modern language. Visitors may dress in pharaonic outfits such as tunics, wigs and turbans to take pictures and feel like they actually are in Ancient Egypt. "It's Latin America's largest collection," Elbattal told ANBA.
Last week, Canela also saw the launch of a sculpture of pharaoh Ramesses II on Praça João Corrêa. The sculpture was made by Egyptian artist Faisal Said Ahmed and its launch featured Egyptian commercial consul in São Paulo, Mohamed Elkhatib; the mayor of Canela, Cosntantino Orsolin; municipal secretary of culture and tourism, Ângelo Thurler; municipal secretary of education, sport and leisure, Gilberto Tegner; and others. The sculpture was designed by the museum.
The same authorities, including Elkhatib, were there at the museum's opening last Friday. "The Egyptian commercial consul has supported me since I started this project," Elbattal said.
The Egyptian plastic artist thinks on drawing both tourists visiting Canela and school groups. He also plans on creating specific programs for schools and has traced an itinerary for a day in town, passing by the Egyptian Museum and the Steam Museum, a steam engine theme park. He also intends to create larger culture and leisure itineraries for high-school students.
Quick facts:
Museu Egípcio Canela
Open every day, 9 am to 6 pm
Caracol – RDV RS 466, 5201 – Canela – RS
Phone: +55 (54) 3254 0113 or (54) 992712521
Tickets: BRL 20-40 (USD 5-10)
Translated by Guilherme Miranda