Economy
Investment
News
Opportunities
Trade
Mercosur-Egypt trade could be bigger in wake of agreement
It will be two years in September since the free trade agreement entered into effect, and sales are still less-than-satisfactory. A move must be made toward more products and more sales, according to the Bilateral Trade Agreements director at Egypt's Ministry of Trade and Industry, Michael Gamal Kaddes.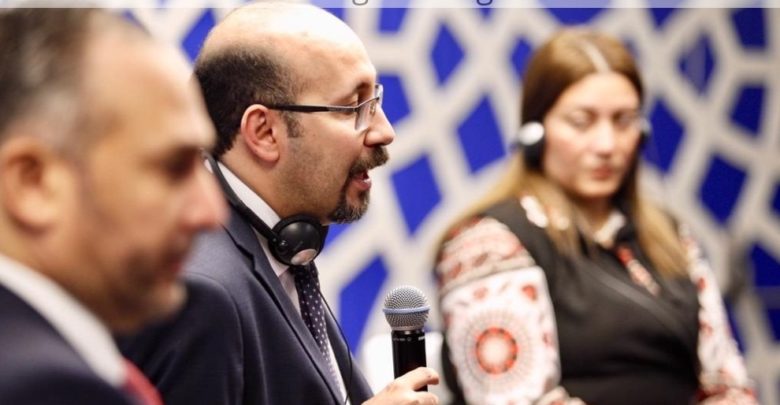 Brazil-Egypt trade falls short of what the Mercosur-Egypt free trade agreement makes possible. This was one of the messages conveyed by thefor Bilateral Trade Agreements director at Egypt's Ministry of Trade and Industry, Michael Gamal Kaddes (pictured above, in the middle) during the seminar "Mercosur-Egypt Agreement: a market overview two years after its entry into force" this Thursday (16) at the Arab Brazilian Chamber of Commerce in São Paulo. The agreement became effective in September 2017.
"Trade remains at the same level, and we are still dealing in the same goods," Kaddes told the audience of about 100 executives and delegates at the event. "We must take a step further," he said. Brazil's exports to Egypt are basically made up of staple items, while Egypt sells mostly fertilizers to Brazil. The director said he'd like for emphasis to be placed on new industries. He suggested machinery, processed agricultural items, leather, and textiles and clothing.
In
2018, exports from Brazil to Egypt slid by 13% to USD 2.1 billion, comprising mainly ores, cereals and iron and steel items. Exports from Egypt to Brazil climbed 73% to USD 269.4 million, consisting mostly of fertilizers, whose exports were up 148%. Sales from Brazil dropped revenue-wise mainly due to sliding commodity prices, Arab Chamber Institutional Relations manager Fernanda Baltazar said.
The same holds true of Egypt's trade with the Mercosur as a whole. Mercosur-Egypt exports were down 23% in 2018 from 2017 to USD 2.9 billion, with Egypt-Mercosur exports going up 72% to USD 363.5 million. Arab Chamber figures show that Mercosur-Egypt sales consist of staple items like ores, cereals, meats and sugar.
Kaddes stressed the need for Brazilians and Egyptians to get in touch and share information so that trade will solidify and evolve into new industries and bigger amounts. He suggested more promotional actions, like a Brazilian Day in Egypt and an Egypt Day in Brazil. "We need more and more of that. We need information on both sides," he argued.
Lowering rates
The Mercosur-Egypt agreement made 31% of the goods exported from Mercosur duty-free. That rate will be 45% in two years' time, according to data presented by Fernanda Baltazar. Conversely, duties have been lifted on 26% of goods shipped from Egypt to the Mercosur, which should go up to 32.2% two years from now. Duty-free Mercosur items include meat and fish preparations, cucumbers, fruits and nuts preparations, petroleum jelly and some fertilizers. Duty-free Egyptian items include some vegetables, mineral fuels, machinery and their parts, some medicinal products, etc.
The agreement divided products into five categories. Group one was freed from duties, group two got 25% off, group 3 got 12.5% off, and group four got 10% off. Except for group one, duties on each of the four product groups will gradually drop each year (by the same rate as when the agreement first went into effect) until 100% is reached. Group five concerns sensitive products, which will be discussed separately.
Arab Chamber president Rubens Hannun opened the seminar by going over relevant facts regarding Brazil-Egypt relations over the past few years. He thanked those who make trade happen and mentioned growing Brazilian-Arab trade. Hannun also said Egypt is a major partner – it was the the top Arab destination for exports from Brazil.
He pointed out that the Arab Chamber organized a trip to 2017. Meetings were held with local authorities, covering trade, investments, customs issues, etc. That same year saw Egyptian authorities travel to Brazil, including Trade and Industry minister Tarek Kabil. Last year, a 45-strong delegation of Egyptian businesspersons joined the Brazil-Arab Economic Forum, held by the Arab Chamber. Companies from Egypt are also regulars at Apas Show, a supermarket industry show which the Chamber brings Arab players to.
Apart from Hannun, Fernanda Baltazar and Kaddes, the forum also featured a presentation from consul Mohamed Elkhatib, head of Egypt's commercial office in São Paulo. Arab Chamber CEO Tamer Mansour and the director of the Americas and Europe Department at the Agreements Sector of Egypt's Ministry of Trade and Industry, Rania Hagrass, answered questions from the audience.
Translated by Gabriel Pomerancblum